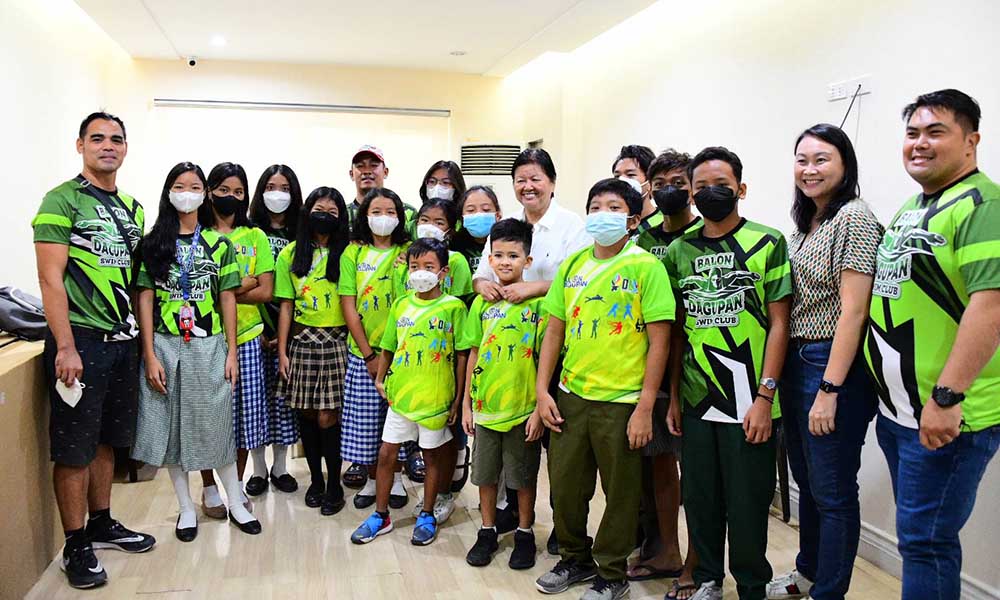 BALON DAGUPAN SWIM CLUB READY FOR BATANG PINOY NATIONAL COMPETITION
Unliserbisyo
THE Balon Dagupan Swim Club, ready to compete in the 2022 Batang Pinoy National Championships to be held in Vigan City, Ilocos Sur on December 17-21, 2022, paid a courtesy call onMayor Belen Fernandez. According to Dagupan City Sports Commission (DCSC) head
Finnela Sim, the 15 Dagupeño athletes comprising the team are 15 years old and below. Meanwhile, the team's Gabriel Jizmundo and Matthew Gearlan are competing in Kuala Lumpur, Malaysia, December 17-19 at the44th SEA Age Group Swimming Championships.
Balon Dagupan Swim Club Head Coach Jeff Lao said it will be the first time for the team to participate in an international competition since  theCovid-19 pandemic. (Dagupan CIO News)
*          *          *          *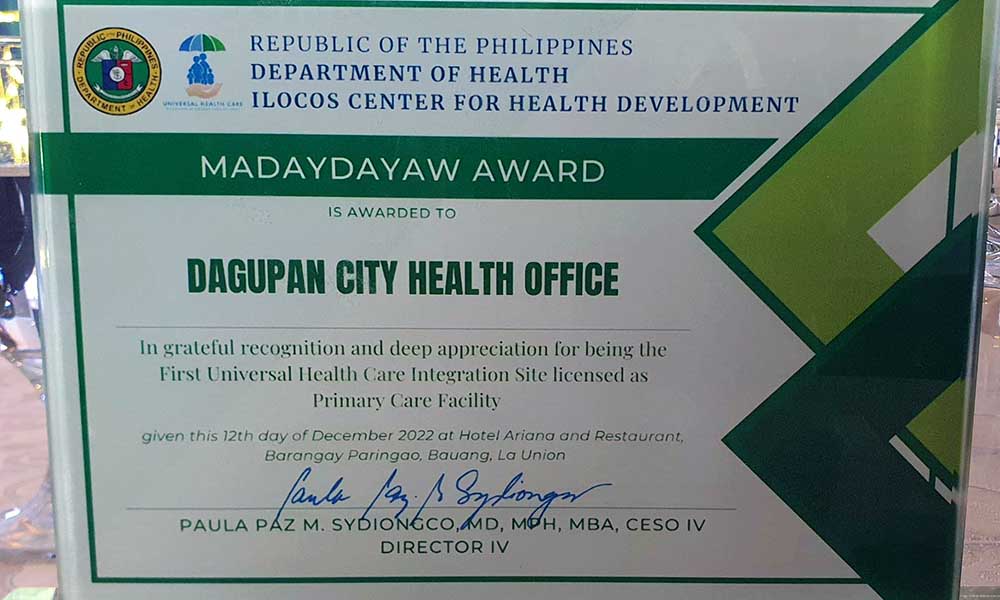 𝗗𝗔𝗚𝗨𝗣𝗔𝗡 𝗖𝗜𝗧𝗬 BAGS MAJOR 𝗔𝗪𝗔𝗥𝗗𝗦 FROM 𝗗𝗢𝗛
DAGUPAN City bagged six awards from the Department of Health–Center for Health Development 1 (DOH-CHD 1) for its various health service programs during the Gawad Kalusugan 2022 held on December 12, 2022 in Bauang, La Union.  Among these was the Madaydayaw Award presented to the Dagupan City Health Office (CHO) for being the first Universal Health Care (UHC) integration site licensed as a primary care facility; Palbayani Award for UHC Champions was earned for being the first UHC site in the region and the city's performance in achieving UHC as reflected in the Local Health Systems Maturity Level.  Under the  Bannuar Iti Salun-At Award, the city earned the status as Top Performing City Epidemiology and Surveillance Unit and for Best TB Control Program Implementer, Best AIDS, STI/HIV Prevention and Control Program Implementer Grand Winner for its AIDS, STI/HIV program, and Best Covid-19 Vaccination Implementation for its contribution in meeting  the targets for the Covid-19 Vaccine Deployment and Vaccination Campaign. The regional DOH also awarded Dagupan P100,000 pesos cash prize.
City Health Officer Dr. Ophelia Rivera received the awards on behalf of Mayor Belen Fernandez who put healthcare as a top priority program beginning from her first term as local chief executive until present to promote the over-all wellbeing of Dagupeños. (Dagupan CIO News)
*          *          *          *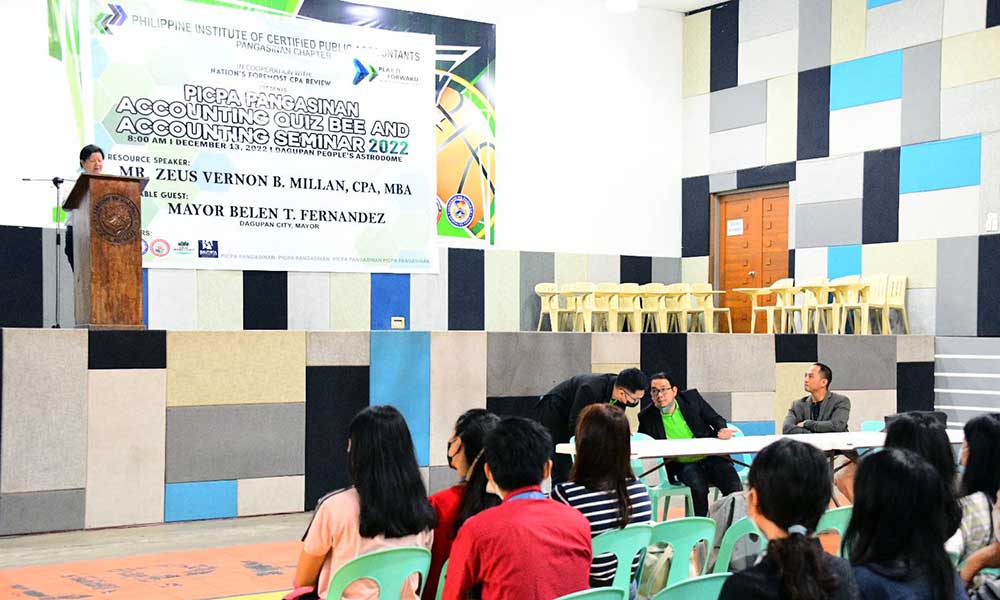 MAYOR BELEN TELLS FUTURE CPAs: HELP SUPPORT GOOD GOVERNANCE  
AT the quiz bee and seminar organized by the  Philippine Institute of Certified Public Accountants (PICPA)-Pangasinan Chapter at ng Nation's Foremost CPA Review last December 13, 2022 at the City Astrodome. Mayor Belen Fernandez urged the Accountancy students from Universidad de Dagupan, Kingfisher School, PHINMA University of Pangasinan, PHINMA University of Pangasinan-Urdaneta, University of Luzon, Urdaneta University, Virgen Milagrosa University Foundation at Lyceum-Northwestern University to be vigilant in their future roles as certified public accountants to help ensure proper disposition of private and public funds. "Help us scrutinize every centavo spent from taxpayers' money and together we can build a better Dagupan," she intoned.
(Dagupan CIO News)
Share your Comments or Reactions
comments
Powered by Facebook Comments