Asingan police raise P6K for 80-year old's bail bond
CHARGED FOR STEALING MANGOES
AN 80-year-old grandfather accused of stealing mangoes was released from jail Thursday after the local police put up a P6,000  for his bail bond.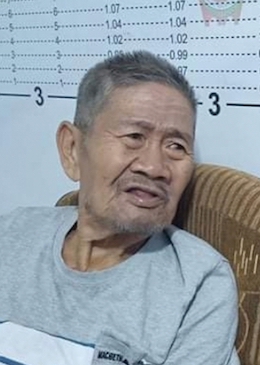 Leonardo Flores, a resident of Barangay Bantog, Asingan, gained an outpouring of sympathy among netizens after the Public Information Office (PIO) Asingan's Mel Aguilar posted his plight following his arrest for alleged theft of about 10 kilos of mangoes.
Lolo Narding said he planted the mango tree and thought it was still part of his property. But the site where he planted it was fenced by his neighbor.
He was arrested on Jan. 13 based on a warrant of arrest issued by the 7th Municipal Circuit Trial Courts of Asingan-San Manuel last December 20, 2021.
Lolo Narding was quoted as saying, "Ang gusto ko sana makipagsundo, maliit lang naman kasi na bagay, noong ibibigay ko yung bayad ayaw nilang tanggapin, ang sabi nila bayaran ko ng anim na libo… (I wanted to settle amicably, it was a small thing, but when I was about to give the payment they refused to accept it, they said I have to pay P6,000). "
Lolo Narding was temporarily released on bail before noon Thursday and was escorted by the police to his residence.
After the PIO-Asingan post became viral, Lt. Col. Ferdinand De Asis, deputy police director for operations and spokesperson of Pangasinan Provincial Police Office said local policemen of Asingan pooled their resources together to come up with P6,000 for the accused's bailbond.
As of press time, several netizens are trying to reach out to Lolo Narding for their financial help to him, including the offer for a livelihood package.
He thanked those who helped him for his release.
Meanwhile, the PIO Asingan issued a public apology Thursday for its post on Jan. 19 regarding Flores' situation.
"For clarification, Lolo Flores was in good condition at the Asingan PNP station and he was taken care of by the police at the time of his stay there until his release." it said in Pilipino.
It also asked for forgiveness to the owner and caretaker of the land for any inconvenience (the social media post) may have caused.
Let us not bash the lot owner and its caretaker, as in fact they were the ones persistent for the dismissal of the case," it added.
It also asked forgiveness from Mayor Carlos Lopez Jr.
Lolo Narding is set to attend a court hearing for his case on Feb. 8.
Information gathered by The PUNCH showed that those who had extended financial help for Lolo Narding as of presstime were: Brig. General Emmanuel Peralta, Police Regional Director (P10,000), Asingan police (P8,000),  William Cezar (10,000), TDHRDD (P8,000), from Canada handed over by Villasis Coun, Judith Morden (P6,000), Raffy Tulfo (P10,000), Anonymous Group (50,000) and showbiz personality Ryza Cenon (undetermined amount). (Eva Visperas)
Share your Comments or Reactions
comments
Powered by Facebook Comments