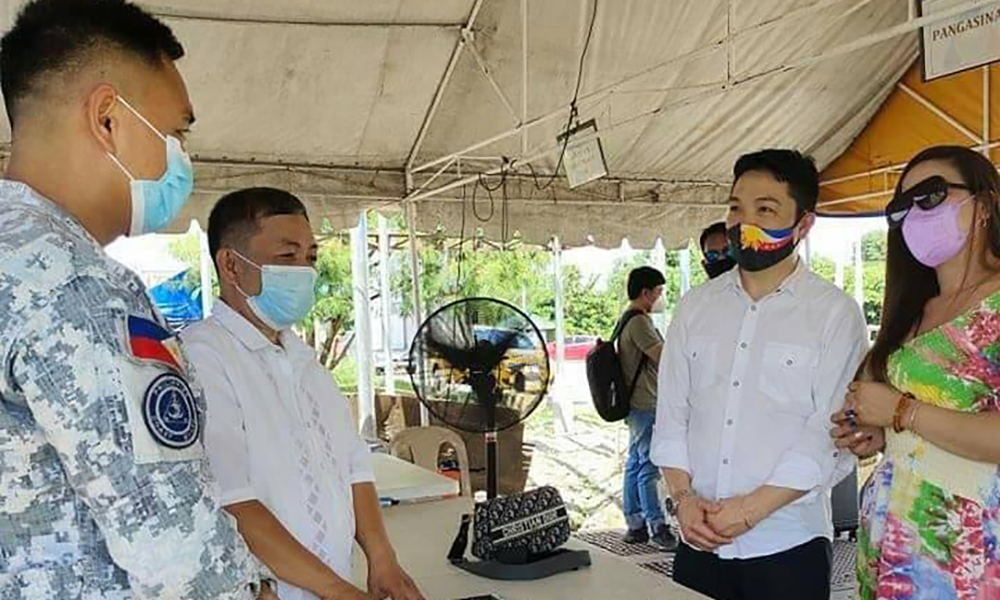 Returning OFW weds fiancée at TPLEX border checkpoint
LOVE CONQUERS ALL EXCEPT BORDER CHECKPOINT

WHAT was about to be a sad ending for a returning overseas Filipino worker from Tayug  and his sweetheart from Villasis, ended up like a tele-novela drama with a twist for  a happy ending.
The couple was originally set to be married in a civil wedding at the Monarch Hotel in Calasiao. But it was not to be as planned.
Erwin Zabala, 46, of Tayug who had just completed his mandatory 10-day quarantine in a hotel in Pasay after his arrival from Dubai and tested negative of COVID-19, rushed out early morning to be at the hotel in Calasiao, assisted by a driver and accompanied  by the Ka Diczon, solemnizing officer for the wedding ceremonies that noon, September 26. .
But Erwin's entourage was barred from entering Pangasinan at the Urdaneta City – TPLEX border checkpoint. Reason: They did not have the S-PaSS, a requirement to enter the province .
S-PaSS, which stands for Safe, Swift and Smart Passage, is an online system primarily intended to efficiently manage travels of Filipino local workers, Returning Overseas Filipinos, local tourists, and others who need to go on business from one province to the other amid the pandemic.
Erwin attempted to pass through two other exit points: Carmen, Rosales and in Binalonan but to no avail. Border personnel were strict.
Pangasinan was under General Community Quarantine with heightened restrictions up to Sept. 30.
Erwin decided to return to the Urdaneta exit and this time, he pleaded to be allowed to have the wedding rites held right under a tent of the Overseas Workers Welfare Administration desk.
Soon as the border guards' gave their consent, Erwin quickly phoned, Ruby Papio, 37, his fiancée, to proceed to the Urdaneta checkpoint for their wedding.
Ruby wasted no time and drove her car to the TPLEX exit point in Urdaneta City.
Finally, at 1.30 p.m., Erwin and Ruby became Mr. and Mrs. Erwin Zabala before Ka Diczon from the Spiritual Filipino Church. They had a member of the Philippine Coast Guard personnel and an OWWA employee, both assigned at the Urdaneta border checkpoint, who stood as their principal sponsors.
After the wedding, their principal sponsors deemed they were already entitled to pass through the checkpoint for their honeymoon.
Photos with description of the wedding event were posted on Facebook under the name Irondicz Civil Wedding Officiant.
"We were almost hopeless, but we did not give up," Ka Diczon told The PUNCH. "Erwin and Ruby were meant to be one. "Pinagtagpo at itinadhana." (They were made to meet and destined), he added.
After all, the couple only met personally on their wedding day!
Erwin, working as a nurse in the United Kingdom, and Ruby, an OFW displaced because of the Covid pandemic, met each other online on May 2021. Despite knowing each other only for months, both being of age, the duo decided to become a couple and settle down as soon as possible.
Their short and long-distance relationship did not deter them from pursuing marriage.
The couple decided to arrange their meeting and their wedding last month, did every preparation online and finalized everything via videocall.
Erwin will spend the remainder of his one-month leave with Ruby, and expects to return to his work in the United Kingdom. Ruby plans to follow her husband there. (Eva Visperas/Ahikan Pasion)
Share your Comments or Reactions
comments
Powered by Facebook Comments