Reminiscing meetings with FVR

By Jesus A Garcia Jr.
I WAS not surprised but deeply saddened over the sudden passing of our beloved former president Fidel Valdez Ramos, better known as FVR. Not surprised because at 94 years old it was but expected that his health was already at a frail stage. But he was still so lucky that he reached that age that only very few can manage in this generation. The other lucky fellow is former Sen. Juan Ponce Enrile, now 98, Ramos co-putschist during the 1986 EDSA Revolution against our former president Ferdinand E. Marcos, Sr.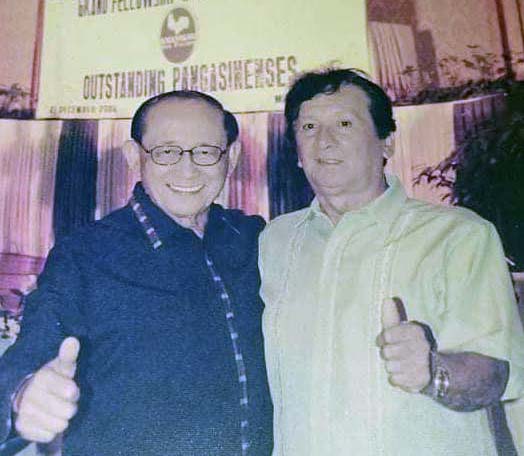 I first met the Lingayen-born FVR on May 19, 1973 at the Amoranto Stadium during the grand finish of the 10-day 1973 Tour of Luzon that I won, the first of my three national cycling triumphs. He came up to meet me and proudly shook my hand to congratulate me being a homegrown Pangasinense, like him. I saw on his face how proud he was of me, being the individual overall champion and as – the skipper of the Pangasinan squad that also won the overall team championship against the top-seeded Urdaneta City based Ilocandia team.
Two years later (summer of 1975) we met again at  the Hundred Islands in Alaminos City where FVR did water skiing to the delight of the crowd. He brought his whole family and I (with my pal and barangay mate Felipe "Boy" Cabrera) joined them for lunch.
On May 1, 2010 during the Pista'y Dayat celebration, I met him for the third time at the Lingayen Beach, at the back of the Urduja Capitol Building. Unlike our first two meetings, we talked longer this time during which time he opened his car compartment and pulled one tobacco cigar with a mark that says "Seal of the President of the Republic of Philippines." Yes, he gave it to me and I said I'll never ever attempt to smoke the cigars  it is a recuerdo from him. That cigar is securely kept in my aparador. But of all the things he told me during that memorable day was his reaction to my question when I dared asked him about his age. "82!" he proudly replied. "Antam Jess, no nayari kumon nasabik met so edad ya 100 years ta piano no bibilang et nagawa ya, so siak labat so head of state ed intiron mundo ya akasabi sanlasus ya taon," he said. Unfortunately his passing was six years short of his dream.
My fourth meeting with him was in 2012 at Manila Hotel where FVR, I and other well-known Pangasinan personalities were recipients of "Kaluyagan ed Pangasinan Award." Of course,  FVR spearheaded the celebration and this writer represented the sports category. We talked briefly about cycling in Pangasinan, the races that I was organizing and directing and he congratulated me. He told me to carry on for the development of our provincial young riders. He admitted that cycling was one of his favorite sports to watch and bicycling is one of his exercises.
And now he's gone, but still very lucky for reaching 94 years of age that only very, very few can achieve. For sure, we will miss him, especially his legacy. It's undeniable that the Philippine economy improved dramatically during his six-year term (1992-1998). We felt it during his term. He's the only Pangasinense (so far) who became president of our republic.
Goodbye Mr. President,  Pangasinenses  love you so much, and I'm one of them.
*          *          *          *
      I was stunned and saddened to know that my cumpadre, my townmate (Mangaldan) who was my first runner-up when I won the fabled 1973 Tour of Luzon and in most races that I won. Cesar Cera Catambay, just passed away today (August 5, 2022). My heartfelt condolences to the bereaved family. Catambay, 68, was three-time national Tour first runner-up, 1973, 1974 and 1983.
*          *          *          *
QUOTE OF THE WEEK: The days of our lives are seventy years; and if by reason of strength they are eighty years, yet their boast is only labor and sorrow; for it is soon cut off, and we fly away. PSALMS 90: 10
Share your Comments or Reactions
comments
Powered by Facebook Comments