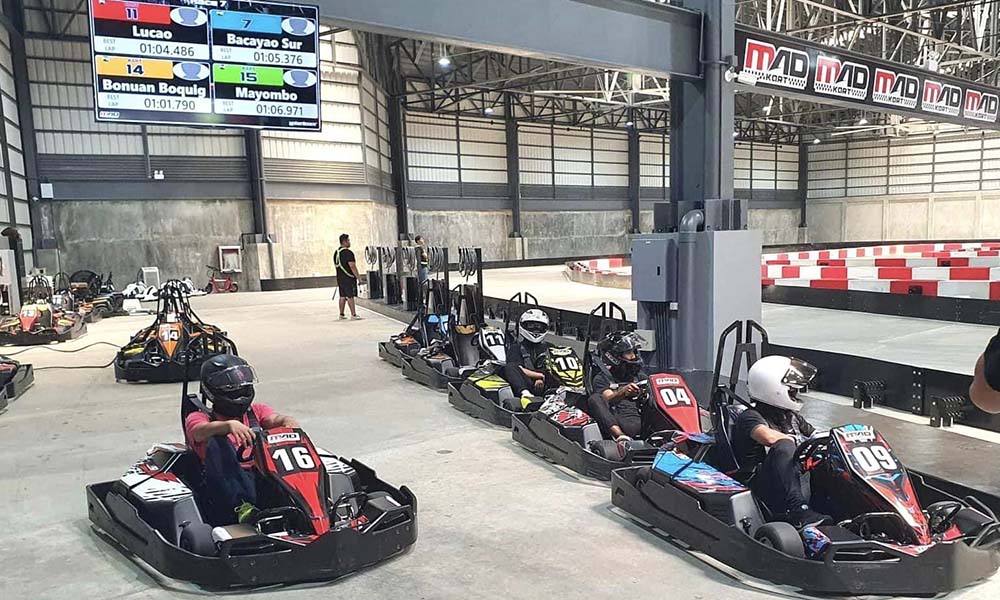 MAD Kart Dagupan stages races
NEW BANGUS FESTIVAL HIGHLIGHT
BARANGAY Captain Joshua Gonzales of Bonuan Binloc emerged as champion in the 1st Indoor Electrical Go Kart Inter-Barangay Competition at the Indoor Electrical Track of Mad Kart Dagupan in Barangay Tambac.
Gonzales submitted the best time of 1:01.147 minutes to win the competition participated in by 30 other Mad Kart riders from other barangays in Dagupan City.
Christian Bautista of Barangay Caranglaan posted the second best time of 1:01.511 to place second while third placer was Jovey Jovellanos of Bonuan Boquig who submitted the third best time of 1:01.784 minutes.
The winners received their prizes from Mayor Belen Fernandez, assisted by Vice Mayor Bryan Kua.
The event was made possible by efforts of Sangguniang Kabataan Federation chairman Joshua Bugayong, former Councilor Karlos Reyna and Owen Tan, special assistant of Mayor Fernandez.
The female Mad Kart riders were led by Janie Castillo of Barangay Caranglaan with  1:02.522, followed by Bernalyn Munoz of Tambac, 1:02.804, and Coleen Irish Cayabyab of Mamalingling in third place with 1:03.63.
In the open competitions that attracted Mad Kart riders from other provinces and cities, the winners in Category A at 40-60 kilograms were Luigi Co, 00:49.4; Paulo Ang, 00.47.679; Russel Pascua, 00.47.539;
Category B at 601to 80 kilograms, the winners were Luigi Co, 00.47.539; Christopher Co, 00.47.556; and Karl Doctor, 00.47.668; Category C at 80.1 to 100 kilograms: Karl Doctor, 00.47.774; Joc Cris Galang, 00.48.57; and Robin Tims, 00.48.620, while Category D at 101 and up kilograms: Mitchell Rodriguez, 00:48.71; Michael Bryan Dy, 00.49.433; and Macgem Bernabe, 00.49.688.
In the Junior Kart competition, the winners were Mien Zyra Co, 00.55.101; Tyrone Lim, 00.55.844; and Jairus Pacheco, 00.56.996.
Mayor Fernandez thanked MAD Kart and his team for steering the competition and for making its establishment as one of the venues of the Bangus Festival sports jousts.
Former Councilor Reyna, who was among those who supervised the competition,  said, MAD Kart Dagupan owns the first Indoor Electrical Go-Kart track in Luzon, whose operations will be a big boon to Dagupan.
Reyna foresees bigger competitions ahead at the MAD Kart Dagupan first indoor electrically track. (Leonardo Micua)
Share your Comments or Reactions
comments
Powered by Facebook Comments