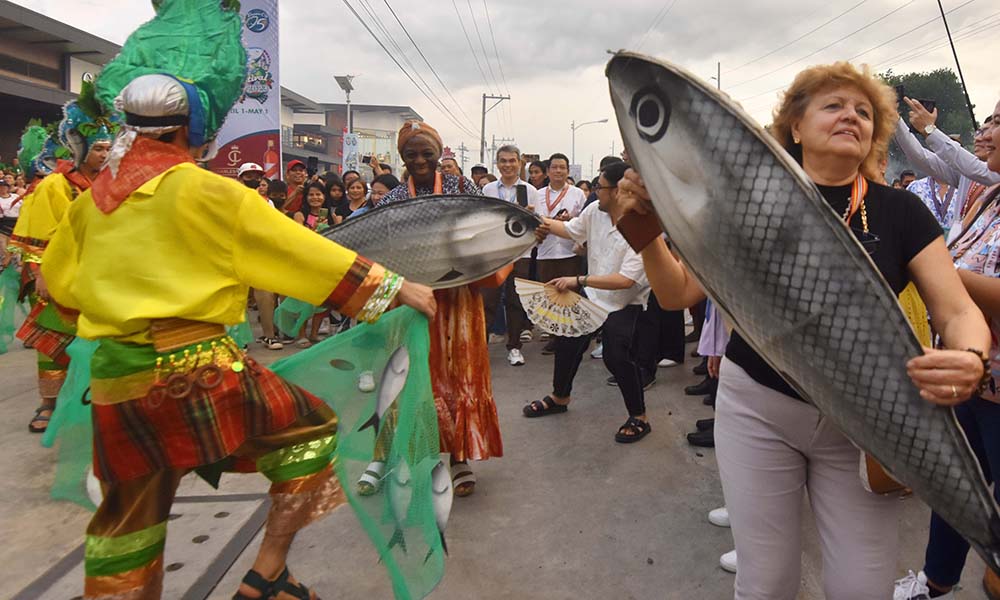 Chillmax with the diplomats
(Photo by Willie Lomibao)

By Rex Catubig
WITH the heat index skyrocketing to 50 degrees, the City's welcome for the momentous visit of the Diplomatic Corps on April 30th for the Bangus Festival Kalutan ed Dalan which featured one thousand grills with burning charcoal, could not have been any hotter.
It's the first cultural excursion arranged by the Office of Public Affairs and Diplomacy of the Department of Foreign Affairs since the pandemic. And it was an opportune time and a momentous occasion for the city to host for the first time ever, not just one but a dozen of the Diplomatic corps all at the same time, to showcase the best of Dagupan and flaunt its face to the world.  On the other hand, it was a handful of personal challenges for the visiting dignitaries themselves as it fell during the city's most jam packed event at the height of summer. Not to mention that the whole cultural itinerary the city organized for them had to be crammed into a short span of a hectic day.
But the upbeat dignitaries were undeterred and gamely rose to the challenge of undertaking the grueling whirlwind acculturation safari without showing any trace of reluctance, regret or exhaustion on their pleasant faces despite the sweltering heat.
Throughout, they were very appreciative of the motley receptions they were immersed in. Shedding off the niceties and formalities of their office, it was refreshing to see the Excellencies and the Honorables unfettered by stifling protocol as they went through the "pomp and circumstance" of their welcome.
Eschewing security concerns, they snaked through the throng of sweaty revelers and gaily gamboled with the Gilon-gilon street dancers. They paused and greeted back the flanks of children who lined up to welcome them at the Archbishop chancery, cutely and colorfully garbed in United Nations finery. They showed keen interest as they were serenaded by singers, dancers, angklung, drum and lyre, and rondalla–their curiosity piqued by the bamboo instrument.
And all the while, at every turn, they obligingly posed for souvenir selfies and innumerable photo ops—with sunshiny smile.
If there is one thing that this diplomatic sojourn proved, it is that diplomats do their tasks best when they openly and genially embrace the people whom their offices are mandated to establish meaningful relations with. It all boils down to personal interaction–grassroots diplomacy is the foundation of the inter-relations among nations.
And Mayor Belen T. Fernandez, who had been up since 4am that day (for the mammoth DILG Fun run, and later accompanying Sen Imeesolusyon for the Kadiwa fair), was herself still all smile after the delegation had gone, knowing the city and its people had left an indelible impression on the distinguished dignitaries and had paved miles of inroads in promoting cultural relations, with economic prospects as bonus.
She knows first-hand what person to person, people to people exchange can do or undo.
When it comes to people, power and politics take a back seat.
Share your Comments or Reactions
comments
Powered by Facebook Comments