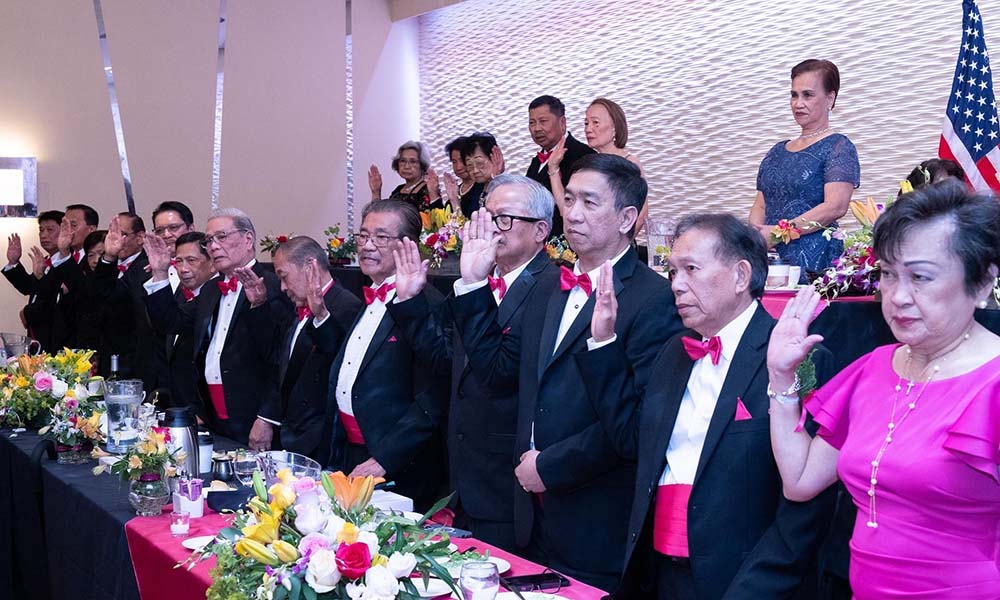 United Pangasinanes of America, Inc. 52nd Inaugural Banquet and Ball
By Charito R. Wui, UPAI Vice President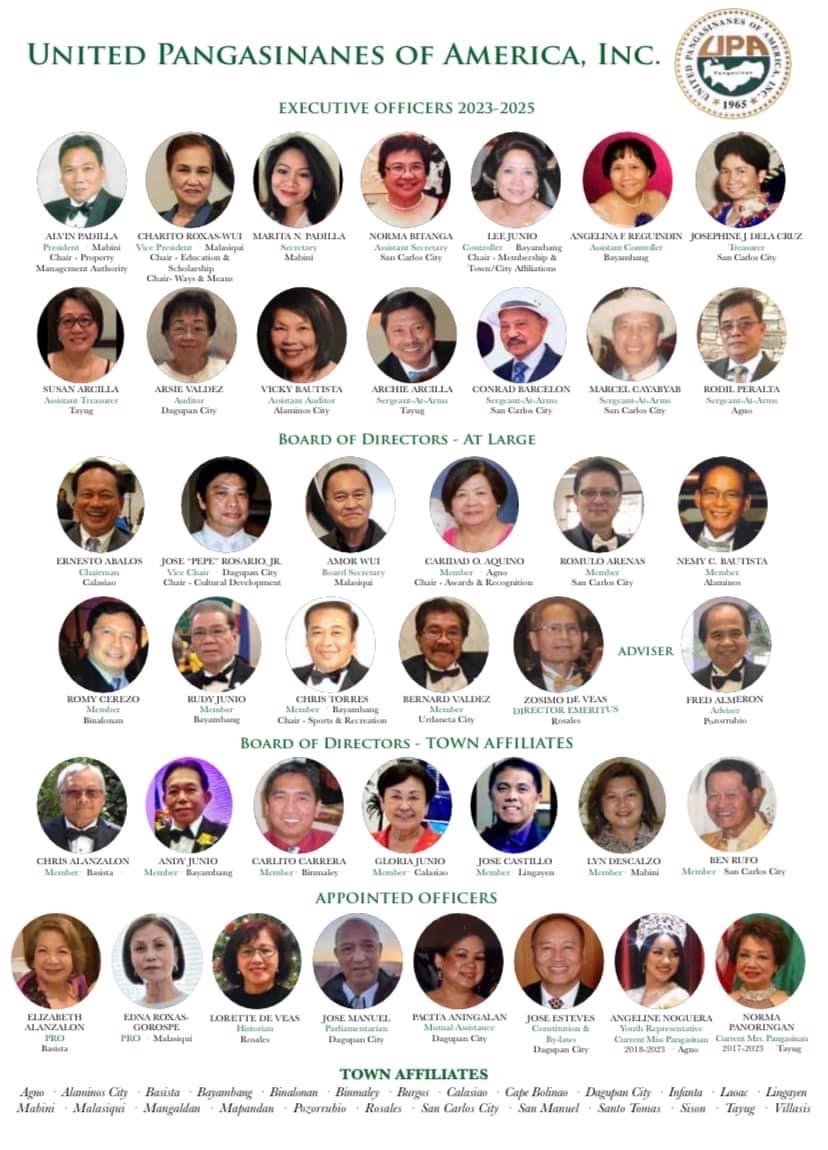 THE United Pangasinanes of America, Inc., a registered non-profit corporation and representing one of the largest Filipino – American organizations in the Bay Area, held its 52nd Inaugural Banquet and Ball on April 15, 2023, at the Hilton Hotel, San Francisco Airport Boulevard Bayfront in Burlingame, CA.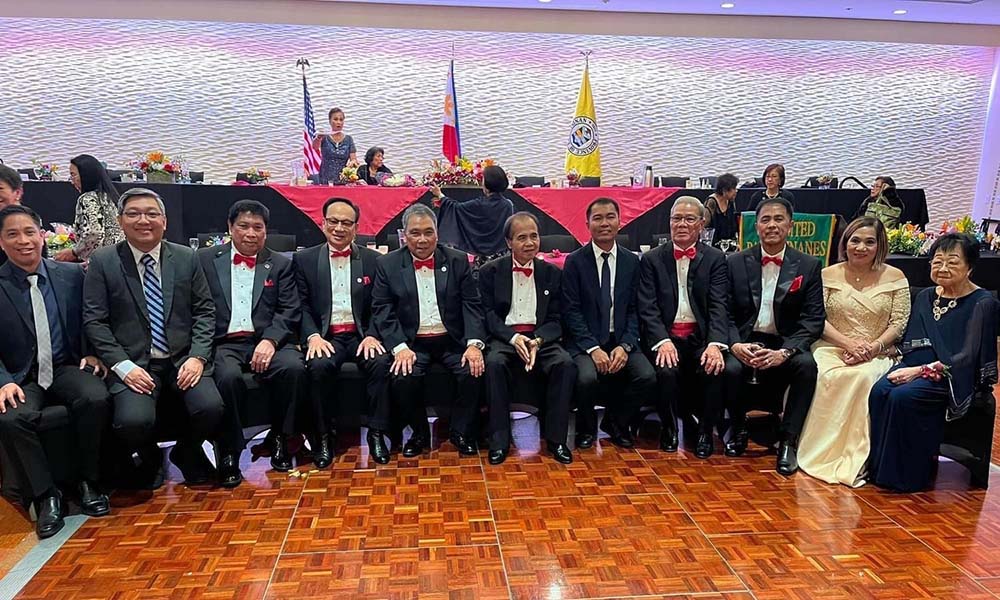 The inducting officer and guest speaker, Pangasinan Governor Ramon 'Mon-Mon' Guico III, was not able to attend the event, was represented by 15 provincial officials led by the Provincial Administrator Mr. Melecio F. Patague II from Binalonan. With him were Special Asst. to the Governor Von Mark Mendoza from Mangaldan/Lingayen, Provincial Board Secretary Atty. Verna N. Perez from Lingayen, Provincial Assessor Atty. Gemino Abad from Lingayen. Provincial board members: 6th District's Atty. Noel C. Bince from Tayug/Rosales, 3rd District's Dr. Shiela Marie Baniqued from Calasiao/San Carlos, 5th District's Chinky Perez Tababa from Urdaneta City, 5th District's Nicolai Jan Louie Q. Sison from Villasis, 4th District's Marinor B. de Guzman from San Fabian, 6th District's Salvador S. Perez, Jr. from San Manuel, 1st District's. Apple DG Bacay from Alaminos; 3rd District's Vici M. Ventanilla from San Carlos, 2nd District's Atty. Haidee S. Pacheco from Urbiztondo, 4th District's Dr. Jerry B. Rosario from Manaoag, and 3rd District's. Jeanne Jinky Zaplan from Calasiao/Sta Barbara.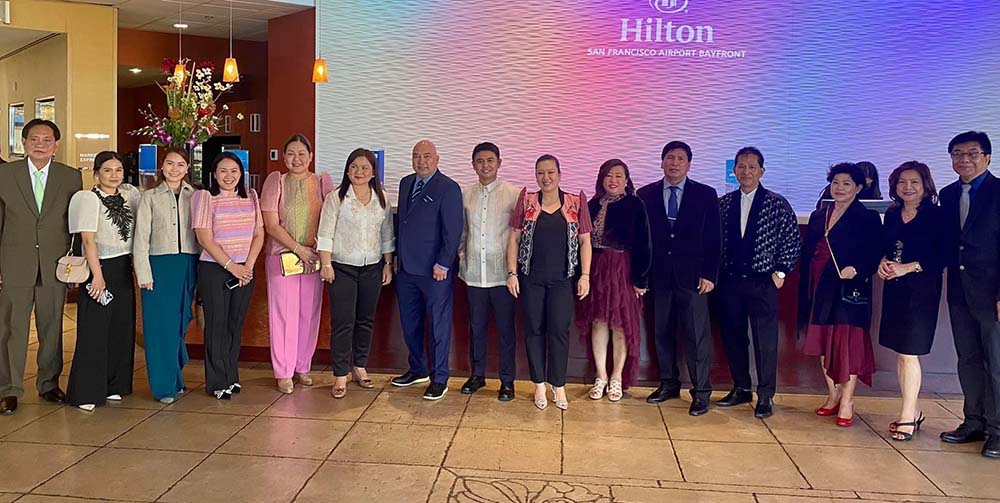 Other dignitaries who attended the event were Daly City Mayor Ray Buenaventura, Daly City Vice-Mayor Juslyn Manalo, Vice – Consul Adrian Audrey Baccay and Ms. Kristine Quiboloy, Cultural Officer, both from the Philippine Consulate General in San Francisco, CA.
The elected UPAI Executive Officers are Alvin R.Padilla, Mabini,1st Dist.  – President, Charito Roxas-Wui, Ph.D., Malasiqui, 3rd Dist. – Vice President, Marita N. Padilla, Mabini, 1st Dist.- Secretary, Norma Bitanga, San Carlos City, 3rd Dist. – Asst. Secretary, Josephine J. Dela Cruz, San Carlos City, 3rd Dist. – Treasurer, Susan Arcilla, Tayug, 6th Dist. – Asst. Treasurer, Lee Junio, Bayambang, 3rd Dist. – Controller, Angelina F.  Reguindin, Bayambang, 3rd Dist. – Asst. Controller, Arsie Valdez, Dagupan City, 4th Dist.-Auditor, Vicky Bautista, Alaminos,1st Dist. – Asst. Auditor, Archie Arcilla,Tayug, 6th Dist. Conrad Barcelon, San Carlos City, 3rd Dist. Marcel Cayabyab, San Carlos City, 3rd Dist. and Rodil Peralta, Agno, 1st Dist.–Sgt. At Arms.  Zosimo De Veas, Rosales, 6th Dist.-Director Emeritus (Deceased). The Adviser is Fred Almeron, Pozorrubio, 5th Dist.- Immediate Past President.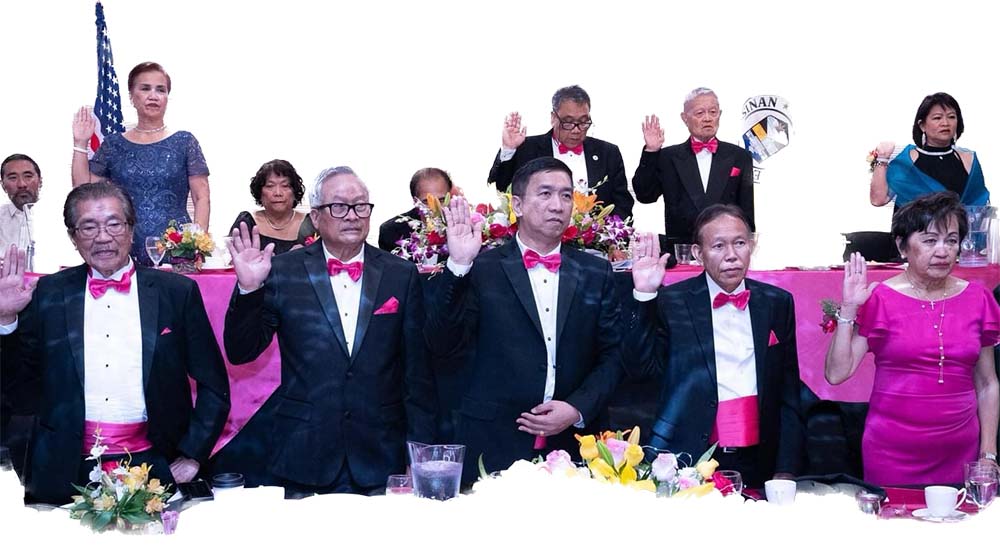 The Board of Directors – At Large are Ernesto Abalos, Calasiao, 3rd Dist. Chair, Jose 'Pepe' Rosario, Dagupan City, 4th Dist. Vice Chair, Amor D. Wui, Dagupan City, 3rd Dist. Secretary, Caridad O. Aquino, Agno, 1st Dist., Romulo Arenas, San Carlos City, 3rd Dist. Nemy C. Bautista, Alaminos, 1st Dist., Romy Cerezo, Binalonan, 5th Dist. Rudy Junio, Bayambang, 3rd Dist. Chris Torres, Bayambang, 3rd Dist. Bernard Valdez, Urdaneta, 5th Dist. The Board of Directors – Town Affiliates are Chris Alanzalon–Basista, 2nd Dist., Andy Junio – Bayambang, 3rd Dist. Carlito Carrera–Binmaley, 2nd Dist., Gloria Junio–Calasiao, 3rd Dist., Jose Castillo, 2nd Dist.–Lingayen, Lyn Descalzo, Mabini,1st Dist. and Ben Rufo–San Carlos, 3rd Dist.
Appointed Officers are Elizabeth Alanzalon – PRO, Basista, 2nd Dist., Edna Roxas-Gorospe – PRO, Malasiqui, 3rd Dist. Lorette De Veas – Historian, Rosales, 6th Dist., Romy Manuel – Parliamentarian, Dagupan City, 4th Dist., Pacita Aningalan – Mutual Assistance, Dagupan City, 4th Dist., Fmr. Milpitas Mayor Jose Esteves – Constitution-and By-laws, Dagupan City, 4th Dist., Angeline Noguerra – Youth Representative and Current Ms. Pangasinan, Agno, 1st Dist., and Norma Panoringan – Current Mrs. Pangasinan, Tayug, 6th Dist.
Standing Committee Chairmen are Dr. Charito Roxas-Wui – Ways and Means, and Education and Scholarship, Lee Junio – Membership and Town/City Affiliations, Jose 'Pepe' Rosario – Cultural Development, Caridad Aquino – Awards and Recognition, Alvin Padilla – Property Management Authority, and Chris Torres – Sports and Recreation.
Atty. Noel Bince, Pangasinan Board Member and Asst. Majority Floor Leader installed the 2023-2025 Executive Officers and Board of Directors while Dr. Shiela Marie Baniqued, Senior Board Member and Presiding Officer Pro Tempore delivered Gov. Guico's message.
The Inaugural Banquet and Ball, chaired and co-chaired by Bernard Valdez and Beth Alanzalon, respectively, was attended by 359 guests. It was the only major occasion by UPAI after the pandemic and it was the biggest and most attended event so far in 2023. The highlight of the affair was the turnover of the presidency by two men of great ideas – Fred Almeron, the Outgoing UPAI President and Alvin Padilla, the Incoming President.
Tin is inaugural speech President Padilla strongly emphasized that change is needed to move forward. He has a self-propelled high-performing team in his administration and expressed confidence that he can achieve he 9-point agenda of his incumbency:
Reactivation of the Scholarship Program under the chairmanship of the Vice-
President, in coordination with the Scholarship arm of the Province of
Pangasinan.
Fortifying the Board of Directors to oversee and be involved in the execution and
realization of the different Standing Committees' Action Plans.
More enriching recreational and fun programs for the Seniors and the Elderly.
Retooling of the officer's functions, duties, and responsibilities through
Leadership Conferences.
Streamlining and consolidating external and internal operational and
management processes in UPAI.
6.  Across generations Ms. and Mrs. Pangasinan Searches.
7.  Bakasyon ed Pangasinan.
Revitalization of the membership roll/recruitment and Memorandum of
Understanding/Memorandum of Agreement with Affiliate Towns and Cities
Organization.
Availability of use of the Pangasinan Center to Affiliate Towns and Cities
Organizations.
Inspiring messages from President Ferdinand R. Marcos Jr., Presidential Chief Legal Counsel of Malacanang Juan Ponce Enrile, Pangasinan Governor Ramon V. Guico III, District 2 Representative Mark O. Cojuangco, Lingayen Mayor Leopoldo N. Bataoil, Daly City Mayor Raymond A. Buenaventura, Consulate General of the Philippines in San Francisco Consul General Neil Frank R. Ferrer, Outgoing and Incoming UPAI Presidents, Fred Almeron and Alvin R. Padilla, respectively called for the commitment and dedication to service to the community, fostering collaboration, cooperation and brotherhood among the UPAI membership, and  preserving the very Filipino trait of resiliency in the midst of adversity.
With the triumvirate power, leadership, and responsibility of President Alvin Padilla, Vice President Dr. Charito Roxas-Wui and Board of Directors Chair Ernie Abalos, UPAI is undoubtedly heading toward a brighter and stronger, more dynamic and directed, and most of all, participative and synergistic organization of leaders in the Bay Area.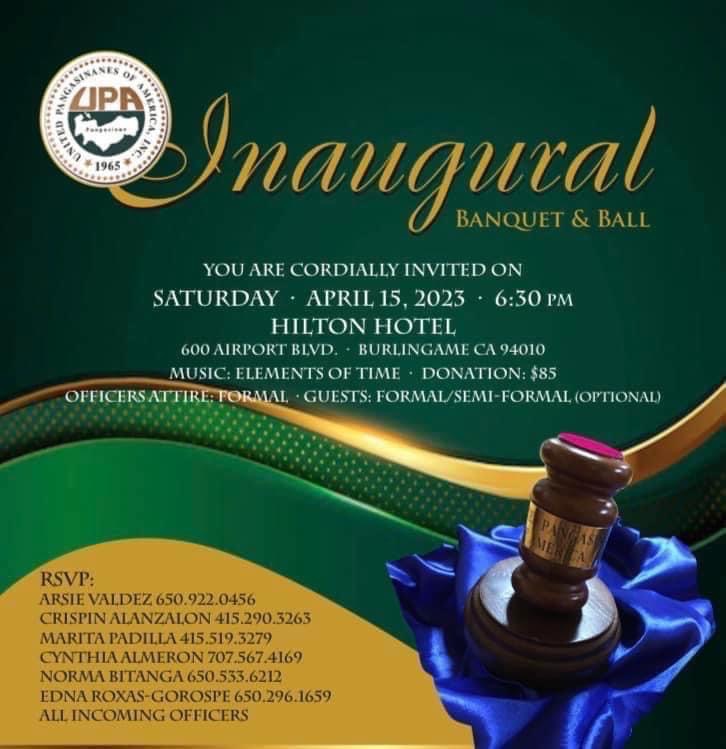 Share your Comments or Reactions
comments
Powered by Facebook Comments