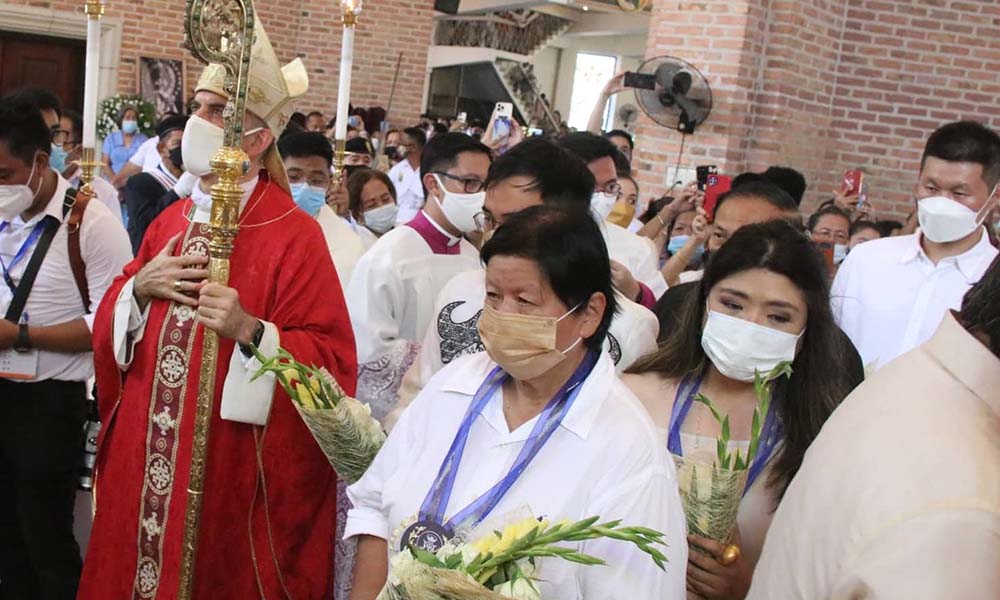 Papal Nuncio is blessing the image of Our Lade of Manaoag inside the St. John the Evangelist Cathedral. (CIOphoto)
By Belen T. Fernandez 
I was among the local officials given the rare honor and privilege to stay up close to Apostolic Nuncio to the Philippines, His Excellency Rev. Fr. Charles Brown. after he presided a mass of the Holy Spirit and the Solemn Blessing  of the iconic image of Our Lady of Manaoag and the  pedestal where she was enthroned the day before at a side chapel of the Cathedral of St. John the Evangelist in Dagupan on August 4.
Nandun din  sila Governor Ramon Guico III, his wife, the beauteous and statuesque Maan Tuazon-Guico, Rep. Rachel Arenas ng  Third District and her mother, Ex-Cong Baby Arenas, Reps. Toff de Venecia ng Fourth District at Mark Cojuangco ng Second District, and, of course, the equally beautiful Mayor Nina Jose Quiambao of Bayambang.
Lumapit ako kay Rev. Fr. Brown, the official representative of Pope Francis to the Philippines,  to express my profuse thanks sa Holy Father in Rome, for honoring my late mother, Dona Remedios Tan Vda. De Fernandez, with an award of the Ecclesia et Pontifica (For Church and Pope on July 16, 2021. As one of her children, I  can say with  utmost humility that no other Dagupeño before my mom received such a prestigious award from the Pope.
In that occasion, nagkausap din kami ni Gov. Guico and we talked about working together for the good of our beloved province and our people.
Over lunch at the Archbishop's Palace, I broke bread, so to speak, with bishops and priests along with the Apostolic Nuncio  and our host, Archbishop  Socrates Villegas.
I can say with pride na  Dagupan was blessed with the visit of the Papal Nuncio to our city and more blessed with the enthronement of the image of our venerated Lady of Manaoag in our Church. And both of these two unprecedented events happened during my watch as mayor of Dagupan. Will I call these as  gifts of the Divine Providence?
Buti na lang, the weather cooperated when the Papal Nuncio was with us and even the day before when Our Lady of Manaaog was enthroned in our own Cathedral to stay with us permanently.
Alam, niyo, I rushed from Manila to Dagupan to welcome the image of Our lady of Manaoag kasi I didn't want to lose  the once in a lifetime opportunity to welcome  Our Lady of Manaaog that was already in transit from Manaoag to Dagupan at the time,
Nasa Malacanang ako kasi on August 2 at the invitation of President BBM where he gave us mayors and governors his marching order to spearhead the drive for intensified COVID-19  vaccination sa mga luga namin kasi dumadami na naman ang Covid cases.
There, I met  DILG Secretary Benhur  Abalos and our fellow city mayors who elected me a week ago as the Region 1 chairman of the League of City  Mayors of the Philippines
(My meeting with President BBM on August 2 was actually my first since I assumed office. And my only second trip to Manila since  my inaugural on June 30. From July 1, loaded na ako sa dami ng gagawin, to put the house in order, foremost of which was to know how much money was left in the coffer. I am happy I have a dedicated staff willing  to work with me round the clock just to deliver UnliSerbisyo to our people.)
Na-inspire sa homily ni Archbishop Soc, particularly yong flashback niya about the 25 memorable days, from June 27 to July 22, 1898, the image of Our Lady of Manaoag slept with us, stayed with us,. "It was a great privilege that the Virgin of Manaoag, wanting to be protected, sought refuge and protection in the city…. that was what we are celebrating this afternoon".
With the image of Our Lady of Manaoag now in Dagupan, we can expect many visitors and devotees not only from Pangasinan but also from other provinces and foreign countries. With them here, sana masiyahan sila as ating hospitality at matikman nila ang ating Dagupan bangus.
*          *          *          *
Right after we bade goodbye to the Apostolic Nuncio,  look who came to our office at city hall! Si Sophia M. Samonte, ang 11-year old sensation from Barangay Bonuan Boquig na nag-uwi ng two bronze medals from the World Championship of Performing Arts held July 22-30 at Anaheim, California, USA.
Accompanied by her mother Arly, Sophia, isang Grade 6 pupil sa St. Robert Bellarmine Center for Learning in Dagupan, ay nasungkit ang bronze medal sa vocal pop and another bronze sa  vocal world event as part of the Philippine Team.
She and her mother came to personally thank us and Councilor Jigs Seen for the help that we extended to her para makasama sa team in that competition. Actually, nothing yong tulong  compared sa honor na binigay ni   Sophia sa city, lalo na for setting an example for other Dagupan youths to follow.
Ang Batang Dagupan really shines anywhere, kahit anong contest as proven by Sophia.
*          *          *          *
Also, salamat sa mga 166 blood donors who  responded to our appeal for blood donation under the slogan "Be a Hero, Donate Blood, Save Lives! " held at CSI City Mall Atrium on August 4.
It was a joint project of Region 1 Medical Center under Dr. Joseph Roland Mejia, the City Health Office under Dr. Opal Rivera and the CSI Group of Companies as part of the latter's corporate social responsibilities.
Lalo pa akong natuwa nung nalaman ko na among the early blood  donors were Provincial Elections Supervisor Marino Salas and Dagupan City Elections Officer Atty. Michael Franks Sarmiento. They set an example for other government officials and employees to follow.
Marami pang blood-letting activities that we will be endorsing and supporting in the future because we know that blood saves lives.
*          *          *          *
Sa bandang flood mitigation, naalis na natin yong mga kumapal na water lily sa Pantal River  malpit na sa Quintos Bridge. Thanks to our indefatigable barangay officials headed by Kapitan Julie Perez.
We have moved to the other barangays upstream of Pantal also kung saan makapak din ang water lily. Just like in Pantal, we enlisted the support of their barangay officials para alisin yong mga water lily na buambara sa daloy ng ating river system.
On top of this, tuloy ang clearing of clogged drainage canals ng ating Vactron machine sa downtown area and the barangays. We asked the DPWH to lend us one of their Vactrons to add to our own in order sustain our efforts in clearing drainage canals.
At the same time, yong dredging ng shallow Pantal River will be stepped up in the next few days.
Inimbitahin ko din mga officials of the DPWH regional and district offices  to a meeting so we can plot a definite course of action para mabawasan yong taas ng almost daily high tide during the rainy season and flash floods occurring during days of monsoon rains.
Hopefully, we can minimize if not end the flooding in my term.
Share your Comments or Reactions
comments
Powered by Facebook Comments