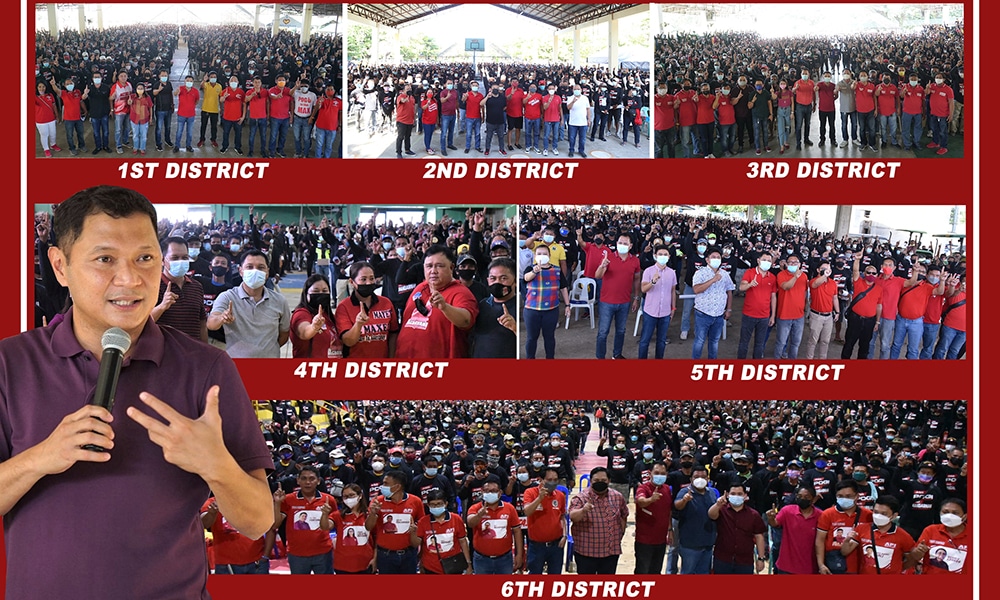 CVOs receive amelioration from Prov'l Gov't of Pangasinan
Governor Amado 'Pogi' I. Espino III hails the sacrifices and efforts of the Civilian Volunteer Organizations (CVOs) as he led the amelioration distribution from December 4 to December 24 held at different municipalities and cities of 6th districts of Pangasinan. Some 23,221 CVOs, popularly known as barangay tanod received P1,000 amelioration benefits from the Provincial Government of Pangasinan. /LIAP
CAPITOL NEWS
PANGASINAN Governor Amado 'Pogi' I. Espino III led the amelioration distribution for 23,221 target Civilian Volunteer Organizations (CVOs) in Pangasinan which started on December 4 and concluded on December 24.
"Every year na ang pamimigay ng amelioration dahil batas na ito," Governor Espino stressed.
The distribution of amelioration for CVOs was recently supported by Provincial Resolution No. 852-2021.
Based on the list of Provincial Disaster Risk Reduction and Management Office (PDRRMO), there are a total of 3,464 CVOs from the 1st district, 3,745 CVOs from  2nd district, 6,409 CVOs from 3rd district, 2,070 CVOs from 4th district, 3,365 CVOs from 5th district and 4,168 CVOs from 6th district of Pangasinan who received P1,000 each.
The amelioration distribution to the CVOs is one of the provincial government's way to express gratitude towards the sacrifices of the civilian volunteers, popularly known as barangay tanod, in keeping their barangay safe and orderly.
"You deserve all the best. Alam at nararamdaman ko kaya dapat makilala din ang inyong pagod sa barangay," said Governor Espino.
The provincial chief executive also announced that aside from the financial assistance, the provincial government will provide patrol tools such as megaphones and flashlights for every barangay in the province.
The Provincial Government through Provincial Health Office (PHO) conducted flu and COVID-19 vaccination in every venue to cater to the barangay tanods.
Earlier, 18,142 target volunteer workers composed of: Barangay Health Workers (BHWs), Barangay Nutrition Scholars (BNS), Barangay Service Point Officers (BSPOs), and Barangay Child Development Workers (CDWs) each received P2,000 amelioration benefits. A total of 41,361 target barangay volunteer workers received amelioration from the Provincial Government of Pangasinan. /Lynette Iris Paed
Share your Comments or Reactions
comments
Powered by Facebook Comments