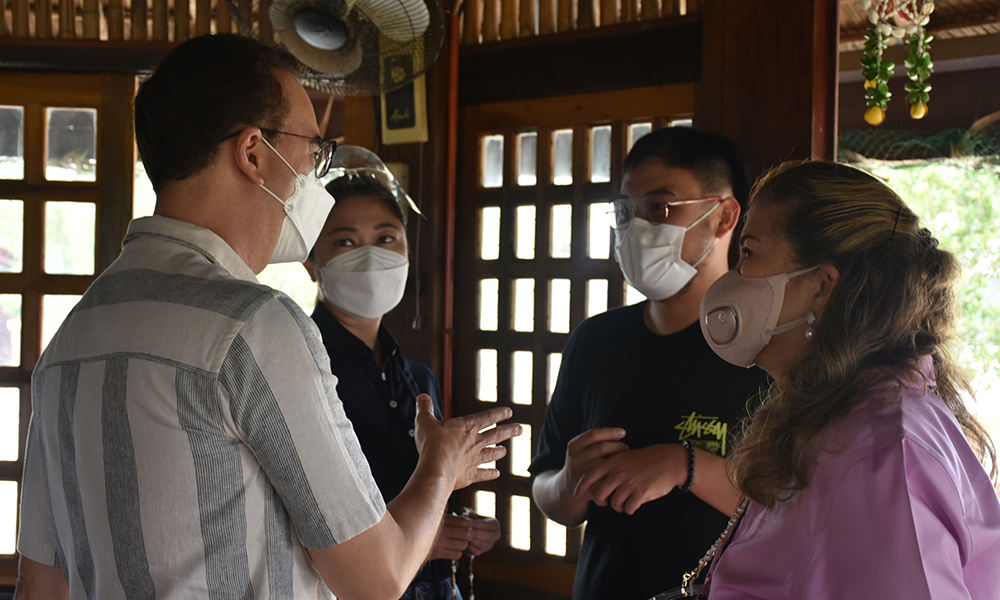 De Venecia credits Cayetano for support in Congress
FOR CREATIVE INDUSTRIES, PERFORMING ARTS
Former House Speaker Cayetano discusses the potential of creative arts in the country with Cong. De Venecia while Cong Lani Cayetano and former Rep. Gina de Venecia listen. (Punchphoto by Butch Uka)
FOURTH District Rep. Christopher de Venecia thanked former House Speaker Alan Peter Cayetano for the trust given him to become the first chairperson of the new Special Committee on Creative Industry and Performing Arts in the House of Representatives.
De Venecia said former Speaker Cayetano, who and wife Lani visited Dagupan City on Tuesday, was the first one to recognize his advocacy for the uplift of the creative industry, an important part of the Philippine economy that at first was not understood by many people.
Because of the special committee on creative industry and performing arts which De Venecia headed, it was easy for Congress to craft proposed legislations that could spur the sector's development, an opportunity that previous administrations did not give.
He added that because of the foresight of former Speaker Cayetano, the creative industry and performing arts sector were given a voice in Congress, which never happened in the past.
De Venecia cited statistics that show that 7.34% of the country's Gross Domestic Product (GDP) come from creative industries.
He explained that as of today, 35 sub-sectors identified with the Creative Industries and Performing Arts have aired calls for help from the government especially at this time of the pandemic. Among these are the bloggers, chefs, visual artistry, fashion designers, dancers, architects, dancers, comedians, fashion designers and others.
At the same time, De Venecia shared the importance of the bill he filed in the House of Representatives that seeks to give long lasting benefits to the creative industries and performing arts sector after participating in a digital conference organized by the Center for International Trade Expositions and Missions (CITEM) last June 28 and 29.
De Venecia presented in that conference, under the theme "A shared Economy", the provisions of his proposed Creative Industries Act and what he did to advance his advocacy to advance the interest of the creative industry and performing arts sector.
This proposed legislation is being pushed by him with the help of Speaker Lord Allan Velasco project, along with the Arts and Culture and Creative Industries Bloc (ACCIB), of which De Venecia its the lead convenor.
Cong. De Venecia also thanked Cayetano for his help in funding various successful projects in his fourth district like the Tondaligan Baywalk in Dagupan and the Biker's Den in Barangay Inmalog, San Fabian which not only boosted physical fitness and tourism programs but also helped stimulate the economy in those areas. (Leonardo Micua)
Share your Comments or Reactions
comments
Powered by Facebook Comments