Honest garbage collector promoted for returning P191K
A GARBAGE collector of the Urdaneta City government was rewarded for his honesty for returning P191,000 cash in different denominations accidentally placed in a garbage bin of a convenience store.
City Mayor Julio Parayno III announced that the status of Reny Corpuz, 46, from Barangay Macalong, as a contractual employee for two years, has been changed to being a casual employee effective June 9.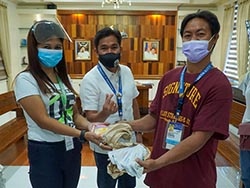 Corpuz, in a phone interview Tuesday, said he and his co-workers composed of a driver and another garbage collector, picked up trash along Barangay San Vicente on June 6 at around 3:00 a.m.
He was assigned to stay on the truck to receive collected garbage passed on to him.
Since it was still dark, he did not notice a plastic bag unloaded from a trash bin of a convenience store. He only noticed the trash bag soon as there was daylight and he was surprised to see cash in different denominations inside paper bags.
He said he initially thought those were just play money but on realizing these were real bills, he brought them home and discussed the discovery with his wife and 20-year-old son.
The consensus was to return the cash to the owner but to whom was their problem since the bag did not have any name. They decided to turn over the cash to Mayor Parayno.
Corpuz said it was his immediate boss at the General Services Office, Emily Lucero, who often reminded the crew to maintain honesty in their job.
Mayor Parayno was elated on learning about Corpuz's honesty and decided to have him promoted right away from being a contractual to casual employee of the city government.
The owner of the money was traced to the convenience store and the cashier that reported the loss confirmed that Corpuz returned the full amount.
The cashier of the convenience store recalled having placed their sales in paper bags and in an area and were obviously mistaken by someone to be part of the trash for collection that night.
It was Corpuz's birthday on June 15 and the family celebrated it simply at home.
"No birthday cake whatsoever but what's more important is the grace of being alive," Corpuz's wife said. (Eva Visperas)
Share your Comments or Reactions
comments
Powered by Facebook Comments