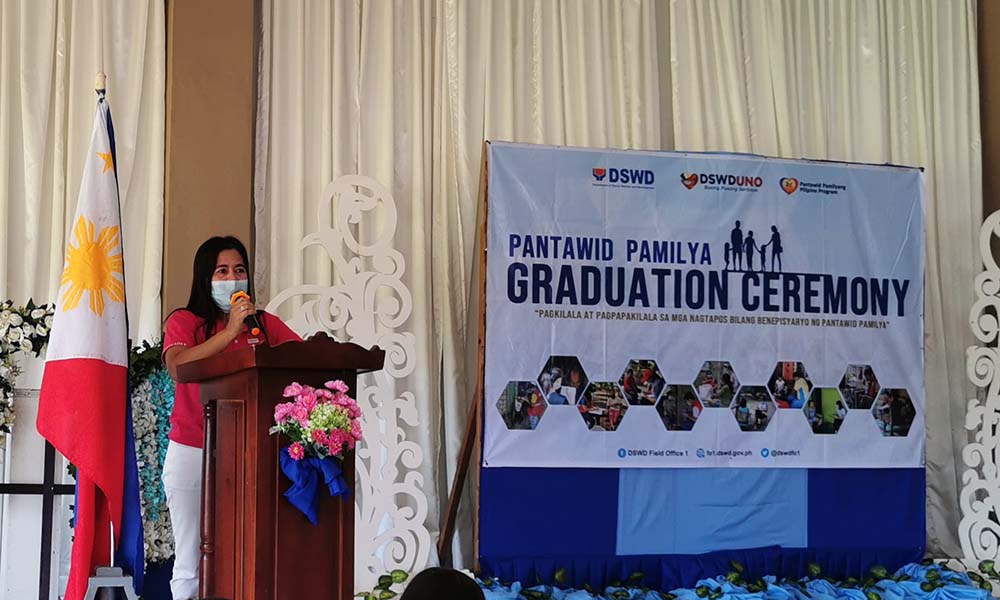 Single parent: "No forever" for any beneficiary in 4P
FOR this single mom, there can be no forever, including being a beneficiary of Pantawid Pamilyang Pilipino Program (4P).
"We should not remain a 4Ps beneficiary forever. We should show others that our quality of life is improving. No one will remain poor because 4Ps served as our companion towards development," Connie Torralba from Barangay San Aurelio 2nd in Balungao town said in Pilipino in her testimonial as a graduating beneficiary.
She thanked 4Ps program because it gave her and her family to leave poverty behind and  committed to being a parent-leader to support her group members.
Torralba voluntarily signed a waiver form because she can already support her family now and there are still others who need 4P more than she does.
"If only I can give my slot, I will give it to them outright. Though I graduated from the program, I still feel great because there will be one family whose life will be changed for the better," Torralba said.
Abandoned by her husband, she said it was tough supporting her children alone and fortunately, her two eldest daughters are already working and earning. She said being a 4P beneficiary in 2013 greatly helped her in sending her children to school.
Her two daughters are presently holding managerial positions in a private company while her third child is a part time private teacher. Her third child was also a grantee of the Expanded Students Grants-in-Aid Program for Poverty Alleviation.
Torralba's two other children are currently in college and senior high school.
"Bicycle", that is how Connie likened her eight-year 4P journey in order to survive.
There were 56 4P household beneficiaries (35 exiting and 21 graduating households) that joined the first graduation ceremony in Balungao bringing with them their learnings from the program including a "Katibayan ng Pagkilala." (Eva Visperas)
Share your Comments or Reactions
comments
Powered by Facebook Comments