San Carlenean is Top 3 in RadTech licensure exam
A 22-year-old resident of San Carlos City ranked third in the May 2021 Radiologic Technologist (RadTech) Licensure Examination.
Russel John Garcia Paulo, a resident of Barangay Magtaking here, who earned a 90% rating, is among the 776 new radiologic that passed the examination.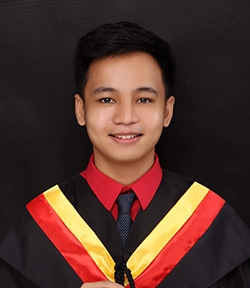 Paulo, a graduate of Saint Louis University in Baguio City, said he still could not believe that he was among the top new licensed radiologic technologists in the country.
He said he never expected to be a topnotcher because he used to play mobile games in between his reviews. He also admitted that he felt discouraged when the original schedule of the exam was postponed.
Paulo said he heard the first hand news about his achievement when his friend, who was the no. 1 topnotcher, texted him that on the night of May 24 about his being a topnotcher. "I didn't believe him at first because the PRC said they will release the result by around 11 p.m," he said.
He said during their conversation that night, all their memories recalled how they both shifted from other courses prior to taking radiologic technology.
Paulo said he first took mechanical engineering because his family wanted it for him. He did it to please them but he was not motivated to do his best. "When I shifted, I didn't tell my family right away because they might get disappointed. But eventually they learned to accept it because this was what I like. They are happy for me," he said.
Paulo said he always feels so satisfied every time he assists patients. The exam included the patient care subject, which was not among the subjects he expected to be difficult.
"I expected it to be so easy because that was one of the easiest subjects including ethics, jurisprudence and administration" he said.
Paulo's mother was the one who mainly supported his studies while working as a dentist in Saudi Arabia since he was four years old. His father died in 2002. His two younger siblings are college students taking up medical technology and psychology.
Paulo said he plans to work abroad in the future but in the meantime, he is considering working in public and general hospitals in the country.
Meanwhile, he advised other students to pursue their dreams and never be afraid of challenges they will encounter along the journey. (Jerick Pasiliao)
Share your Comments or Reactions
comments
Powered by Facebook Comments