Pandemic worked for pharmacists' licensure topnotcher
HE only prayed for a passing grade at the board exam for pharmacists but he achieved more than what he asked for.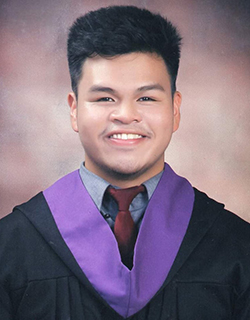 Angelo Feliciano Zarate, 23, from the Lyceum Northwestern University in Dagupan City, topped the April 2021 Licensure Examination for Pharmacists given by the Professional Regulations Commission with a 90.70 percent rating.
Only 674 out of 1,168 examinees passed the licensure examination given on April 2021.
"To be honest, I never expected it. I only aimed to pass (the exam)," Zarate said in a PUNCH interview.
Zarate did not graduate in college with honors but he was third honorable mention in high school at the Mother Goose Special Science High School in Dagupan City.
He said he learned about the results of the exam on April 30 when someone tagged him in a Facebook post and initially thought it was a prank and confirmed it by checking the website.
He then went to see his mother who was taking her afternoon nap and told her about the happy news.
Surprised, his mom, Ruth Ann Feliciano, who works as a nurse in the Office of the Senior Citizens' Affairs in Dagupan City, shouted for joy and they both hugged each other and cried.
He graduated in May 2019 and when pandemic was declared, he took it as an opportunity to review his notes after doing household chores. "Constant prayers helped me," he said.
Gelo, as he is known to family and friends, revealed he has lost communication with his dad and their relationship didn't work out.
"Maybe when you lose something, God will surprise you with more than what you deserve," Gelo said. He said he plans to work in a drug manufacturing firm.
To students still grappling with their studies, he said, "Nothing is impossible if you keep aiming high and if you focus on your goal. You'll get there, whatever happens. Keep working hard always and don't forget to pray and give all to Him."
Lyceum Northwestern University-Dagupan City ranked third among the top performing schools in the April 2021 Pharmacist Licensure Exam with 92.86 percentage passed. (Eva Visperas)
Share your Comments or Reactions
comments
Powered by Facebook Comments