By Jesus A. Garcia Jr.
AFTER a lull of almost two years, our country's seasoned pedal-pushers are back on the road again along our national highways to train and compete. They need to do this to revitalize, refresh their muscles, sturdiness and adeptness in the two-wheeled sport that they used to do.
In fact, my cycling contemporary, Jose Deresas of Cebu City, a Tour of Luzon veteran told me last Wednesday night that his province Cebu just conducted the very first multi-stage bicycle race in the country this year. He said the three-day, more than 600 kilometers, bikefest dubbed as "Cebu Cycle Cross 600" (also known as Tour of Cebu) was held last November 12 to 14. It was won by Cebuano rider Tour veteran Jonnel Carcueva, beating his province mates and the visiting Mindanao competitors convincingly.
And, yes, a similar event, the "First Tiziano Ettore Rossi Mountain Bike Challenge" was held here last November 14 in Barangay Inmalog in San Fabian, Pangasinan. The one day bikefest, first to be held in Central Pangasinan after two years of inactivity due to pandemic, was sponsored by former professional Italian cyclist Tiziano E. Rossi with the blessing of San Fabian LGU headed by the town's chief executive Danny Agbayani.
Rossi, married to a San Fabian lass, is a long time bona fide resident in the barangay. The all-hilly cycling road race, participated in by 140 Pangasinan mountain bikers, was done in five categories. Hundreds of cycling enthusiasts watched them conquer the  roller-coaster 27-kilometer trek that commenced and culminated at the famous Biker's Den of Barangay Inmalog. Of course, I was there to supervise the event directed by my eldest, my only cycling son and two-time Olympian (1992 Barcelona and Sydney Olympics) Jazy Fernandez Garcia. It was really a thrilling and exciting race especially in the 'open category' which from the beginning up to the end was unpredictable with our Pangasinan standouts see-sawing foe the lead.
Eventually, the main event of the day was won by new cycling sensation, Steve Hora from  San Manuel town. He topped the open division, outsprinted San Fabian standout Sherwin Carrera in a mad-dash to the finish. Duathlete Rubeno Javier of Sto. Tomas town came in a distant third. Dagupan City elite road-player Kenneth Maramba finished fourth and Jay Carino of Mangaldan, fifth.
Here were the top five finishers in the Female Open Division: 1. Millecent Joy Decena (Dagupan City) 2. Raven Joy Valdez (Asingan) 3.Jena Valdez (Asingan) 4. Jouvame Samilin (Asingan) 5. Hannah Balanag (Asingan).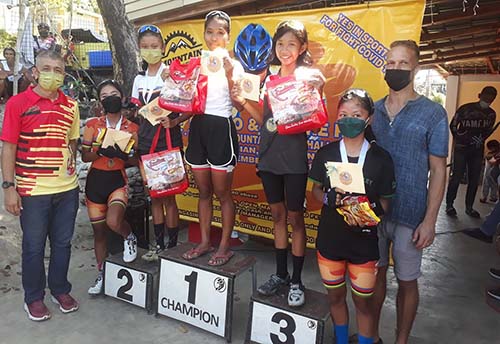 The top three finishers in the Junior Division (14-17 years old): 1. Adrian Oliver Nicolas (San Manuel) 2. Jonathan Abalos (Sta. Barbara) 3. Paulo Loreha (San Carlos City) Master Category Division (46 years old and above): 1. Rommel Narvas (San Fabian), 2. Jon Garcia (Manaoag), 3. Marco Guntang (San Fabian). Manager|Executive Division (40 years old and above): 1. Maj. Peter Sison (Mangaldan) 2. Jeffrey de Vera (Calasiao) 3. Dan Fernandez (San Carlos City) All the winners received medals, cash prizes from Mr. Rossi and Mayor Agbayani and gifts from Excellent Noodles.
We thank God that our country is slowly and progressively returning to normal.
P.S. The next Pangasinan bike race will be on December 18. Details will be printed here next week or two weeks from now.
*          *          *          *
QUOTE OF THE WEEK: And He said to them, "You are from beneath; I am from above. You are of this world; I am not of this world. "Therefore I said to you that you will die in your sins; for if you do not believe that I am He, you will die in your sins." JOHN 8: 23-24
Share your Comments or Reactions
comments
Powered by Facebook Comments