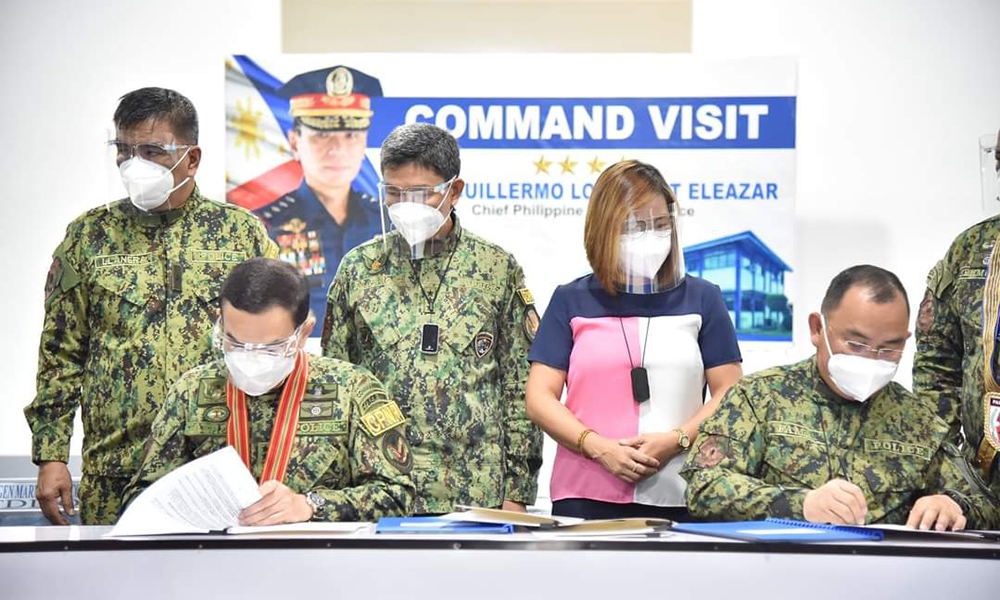 Fama donates land for EOD-K9 training
LAND DONATION TO PNP – Chief PNP Gen. Guillermo Eleazar and P/Brig. Gen. Fama sign the deed of donation in favor of the PNP. (PPPO photo)
A NEW state-of-the art PNP training camp will soon rise in Barangay Capantolan, Sual for the Explosive Ordnance Canine Group (EOD-K9) of the Philippine National Police.
Iwill be built on a one-hectare lot donated to the PNP by P/Brig. General Harris Fama, deputy director general of the PNP Directorate for Community Relations.
Fama signed a deed of donation covering the property with PNP Director-General Guillermo Eleazar when he visited the Pangasinan Provincial Office last June 30.
The new camp will have training facilities, clinic  and cages for 30 dogs and 100-bed capacity barracks for policemen, classrooms and the Director's quarters.
Fama was still a  colonel when he wrote a letter to then PNP chief Debold Sinas expressing his intention to donate a piece of land for the EOD/K9 Group.
A camp Master Development Plan is ready for implementation after the signing of the deed of donation between Fama and General Eleazar.
Fama, who earned his star rank on January 25 this year, is a member of the PNP Academy Class of 1990. A native of Dagupan City, he is a graduate of the Dagupan City National High School in 1983.
While at the Pangasinan PPO, Eleazar accepted the donation to the PNP of one L-300 Mitsubishi van, four motorcycles, 30 body vests and 10 caliber 9 mm pistols from  San Carlos City Mayor Juliet Resuello and one truckload of food packs, 30 cellphones for the 30 border checkpoints and 20 solar lights from Governor Amado Espino III.
After a courtesy call on Governor Espino at the Capitol, General Eleazar administered the oath-taking of provincial officers of the Coalition of Lingkod Bayan Advocacy Support Group and Multipliers from Bayambang, San Carlos City, Dagupan City, Malasiqui, Basista and Lingayen. (Leonardo Micua/Ahikam Pasion)
Share your Comments or Reactions
comments
Powered by Facebook Comments