City Chinoy business owners, employees take COVID-19 jabs
FILIPINO-Chinese business owners and their employees in Dagupan City have started to receive their COVID-19 jabs last week after the Dagupan-Pangasinan Filipino Chinese Chamber of Commerce and Industry Inc. (DPFCCCII) received 1,990 vaccines procured by the Federation of Filipino Chinese Chambers Of Commerce & Industry, Inc. (FFCCCII).
Atty. Edward Cham, DPFCCCII president, said the FFCCCII, as a private entity, procured Sinovac vaccines directly from China, and distributes it to all chapters in the country.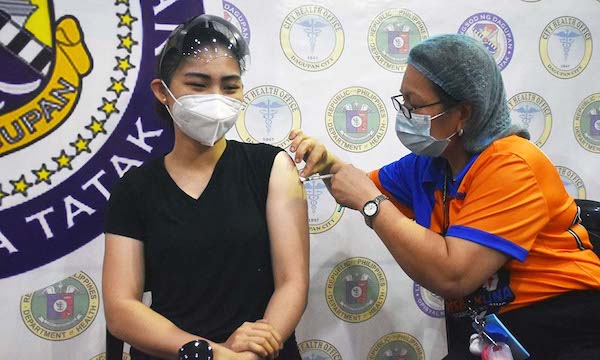 Marijoy Tinquico, the first recipient of the first privately-procured vaccine in Northern Luzon, allocated to the DPFCCCII by the FFCCCII. (Punchphoto by Willie Lomibao)
Cham said FFCCCII has allocated 3,700 for DPFCCCII and the 1,900 doses was the initial delivery.
Around 1800 individuals are targeted to be vaccinated by the received vaccines, divided into 50 individuals scheduled on Mondays, Wednesdays, and Fridays.
To implement the rollout among DPFCCCII members, Cham, signed a memorandum of agreement with the Dagupan City government Mayor Brian Lim, Dr. Dalvie Casilang, Covid Vaccination Program Team Leader, and Dr. Aurora Cuison, City Health Officer on Monday, July 12.
Under DOH guidelines, only accredited vaccination centers can store and administer the vaccines. "May vaccinators na ang Dagupan, and may facilities na rin. May storage na. It won't be a hassle", said Cham.
Cham said there has been no hesitancy among members to be inoculated with COVID vaccines.
The first DPFCCCII member to be vaccinated was 26-year-old Marijoy Tinquico, owner of an electronics merchandise shop in the city, who said it was important for her that her employees got vaccinated and urged the public to be inoculated, and be unafraid of risks of vaccination. (Ahikam Pasion)
Share your Comments or Reactions
comments
Powered by Facebook Comments