MBTF cites violations committed in passing annual budget
SILG ABALOS GETS BRIEFER
A BRIEFER on the passage of P864.91 million annual budget of Dagupan City was handed to Interior and Local Government Secretary Ben Hur Abalos by Mayor Belen Fernandez last April 30 when he was in Dagupan to spearhead the BIDA Fun Run and to do the ceremonial lighting of the Kalutan ed Dalan.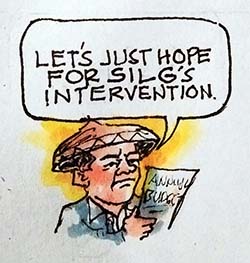 The briefer cited the illegal processes resorted to by the seven-man majority (Councilors Red Erfe-Mejia, Celia Lim, Irene Lim-Acosta, Dada Reyna-Macalanda, Alvin Coquia, Alfie Fernandez and Marilou Fernandez) in the city council that sought to initially paralyze operations of the city government with an annual budget that only a third class municipality could possibly work with, and eventually compelled it to work with a reenacted budget that severely limited the city's growth and development.
When asked about the initial reaction of Abalos during her press conference on May 2 upon receiving the briefer, the mayor simply said it's not for her to divulge his thoughts on it.
Mayor Belen Fernandez expressed hope that Secretary Abalos can intervene and correct the anomalous situation that included the rejection of a P148 million development fund that comprises 20 percent of the share of the city of Dagupan from the National Tax Allotment (NTA), making Dagupan the only local government unit in the country without a 20 percent development fund, a mandatory requirement.
City Legal Officer Aurora Valle, who prepared the briefer, said even the P1.38 billion reenacted budget does not provide flexibilities to enable the city government to effectively implement its innovative programs.
The reenacted budget provides only appropriations for the salaries and wages of job order employees and consultants, the allowances of barangay front liners, but not the scheduled salary increases for demoralized regular employees.
According to Councilor Michael Fernandez, SP minority floor leader, a reenacted budget does not allow the Sangguniang Panlungsod to enact a supplemental budget.
Valle added that the reenacted budget has no Annual Investment Program (AIP) and without an AIP, the reenacted budget is useless.
Worse of all, she said the 2023 annual budget partially vetoed by the mayor may be declared inoperative in its entirety by DBM due to various violations of laws that deleted mandatory provisions in the annual budget. (Leonardo Micua)
Share your Comments or Reactions
comments
Powered by Facebook Comments