Majority continues to block city hall's appointments
AFTER TERMINATING EMPLOYEES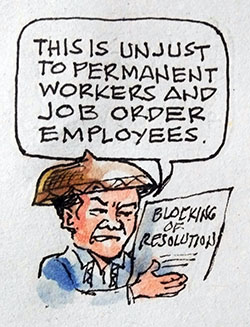 AS if passing a zero budget for job order employees and deleting funds for scholars were not enough, the 7-man majority at the Sangguniang Panlungsod continues to block the resolution amending the city's Human Resources Management, Promotion and Selection Board (HRMPSB) adopted in September 28, 2022.
The continued refusal of Councilors Red Erfe-Mejia, Celia Lim, Irene Lim-Acosta, Librada Reyna-Macalanda, Alfie Fernandez, Alvin Coquia and Marilou Fernandez, to allow the passage of the ordinance prevents Mayor Belen Fernandez from filling up more than 80 vacant positions in the city government and blocks the promotion of deserving city hall personnel to higher ranks.
In a privilege speech on May 15, Councilor and Minority Floor Leader Michael Fernandez decried the long overdue action on Resolution No. 6209-2022 requested by the city executive in September 28, 2022, which she qualified as urgent and despite the five public hearings conducted by the the committee on civil service.
Fernandez said Resolution No. 6209-2022 was entered in the first reading during the SP session on October 8, 2022.
When Mayor Fernandez sent a follow up letter on November 3 last year reiterating her request for the passage of the ordinance, underscoring its urgency, her letter was merely  read as part of the communications of the November 8 session.
Eventually, three committee hearings were conducted, the last was on December 20, 2022.
Councilor Fernandez said the blocking of the resolution was not only unfair to the JOEs who already obtained the civil service eligibilities and the needed educational qualifications but cannot be appointed to any of the vacant permanent positions, but also  to permanent employees who deserve to be promoted to a higher position.
Meanwhile, Councilor Alfie Fernandez, chairman of the civil service committee, cited the non-appearance of Vice Mayor Bryan Kua in the committee hearings as one of the reasons for the delay in approving the intent of the resolution; the other was Section 323 of the Local Government Code that barred Sanggunians to discuss other matters until the annual budget is passed.
On April 24, 2023, less than one month after the passage of the P864.9 annual budget for 2023, Mayor Fernandez sent another letter to the SP reiterating the passage of the ordinance.
Councilor Alfie set the new committee hearing on the resolution on May 23, and reiterated anew the invitation to Vice Mayor Kua to attend.
When Councilor Michael asked members of majority to make public the questions they have for Vice Mayor Kua, so he could already respond to during the session, all they said was Ravanzo, "is in no position to answer our questions," evidently to stop the vice mayor from sending the city secretary as his representative to the committee hearing. (Leonardo Micua)
Share your Comments or Reactions
comments
Powered by Facebook Comments