Land Bank OKs P6-B for Guico's infra, resorts
PANGASINAN GOES TO BUSINESS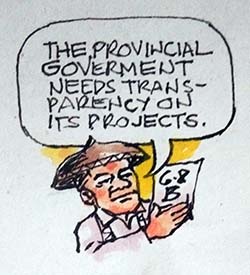 THE Land Bank of the Philippines (LBP) has granted a P6.8 billion loan to the provincial government of Pangasinan for its monumental projects, including the construction of several land ports and terminals along the planned 166-kilometer Pangasinan Link Expressway (PLEX).
This was confirmed by LBP President and CEO Cecilia C. Borromeo in a statement released by the state-owned bank.
The loan was granted after the Sangguniang Panlalawigan of Pangasinan (SP) approved Provincial Resolution No. 188-2023 jointly authored by Vice Governor Mark Ronald Lambino and Third District Board Member Vici Ventanilla during its regular session on February 20, 2023.
The resolution is the SP's response to a letter sent by Governor Ramon Guico III on February 15, 2023 stating his plan to seek a loan agreement with the LBP.
The approved loan will also be used to fund planned construction of road infrastructures, resorts and upgrade of other government offices; P2.85 billion of which is specifically to fund and bolster the province's healthcare and transport system.
Land ports, terminals will be built along the planned Pangasinan Link Expressway (PLEX), formerly Pangasinan East-West Expressway (PEWEX).
The expansion of the Lingayen airport terminal and runway and construction of another airport in Bani town, some sixty-plus kilometers from the province's capital town Lingayen, are included in the list of planned projects.
In the resolution passed by the SP, healthcare centers in Urdaneta, Lingayen, Tayug, San Carlos City, Binalonan, and Umingan cited requests for P1.4 billion.
P1.95 billion is allotted for the construction of a hotel cum resorts, to be designed and developed for tourism events and facilities for entertainment.
The remaining P1.2 billion will be allocated for the establishment of the Pangasinan Polytechnic College and construction and upgrade of some government facilities in the capitol. (Ahikam Pasion)
Share your Comments or Reactions
comments
Powered by Facebook Comments