Laid-off city hall employees lambast 7 councilors
INDIGNATION RALLY VS. ANTI-POOR BUDGET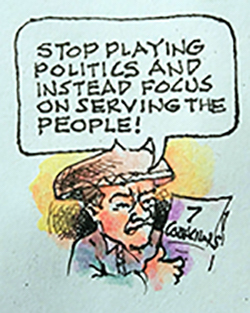 WHAT was supposed to be a simple flag-raising ceremony last April 3 turned out to an indignation rally led by many of the more than 700 job order employees who were laid off because the seven majority councilors in the Sanggunian Panlungsod did not provide outlay for their wages in the P864.91-M annual city budget.
All clad in black and carrying placards denouncing the seven majority councilors, namely Councilors Redford Erfe-Mejia, Celia Lim, Irene Lim-Acosta, Librada Reyna-Macalanda, Alvin Coquia, Marilou Fernandez and Alfie Fernandez, the protesting laid off employees  were joined by barangay frontliners whose meager allowances were slashed, too.
One of their placards read: " Never Again with a black ribbon beside it".
Mayor Belen Fernandez said the "anti-poor" budget summarily laid off 769 Job Order Employees, 47 day care workers, 31 Barangay Nutrition Scholars, 31 Barangay Nutrition Scholars, 31 Barangay Librarians, 65 Barangay Service Point Officers, 310 Barangay Health Workers and 620 Barangay Tanod.
The Diagnostic Center that provides free CT Scan, free ultra-sound, free X-ray and free blood test to indigent residents was closed last Mach 31 because the proposed budget for the nurses and doctors was deleted. Also closed was the Dagupan City People's Astrodome  maintained by JOEs. The day care center teachers were also denied their meager P6,000 monthly salary.
The scholarship fund for new 2,500 selected college scholars was withdrawn, and no funds were allotted for environmental/services, security services and subsidy to national government agencies, including the Commission on Audit which local government units are mandated by law to provinces.
While thanking the JOEs for offering to work as volunteers under her administration without remuneration, she did not say when their sacrifices will end but vowed to fight on, together with Vice Mayor Bryan Kua and all the five minority  councilors, till their  wages are restored in the budget.
Meanwhile, Mayor Fernandez said she asked the five lifeguards at Tondaligan Ferdinand Park to continue serving to help save and protect lives, and the boatman to continue providing the daily "sakay-sundo" to students from island barangays to attend schools in the city and assured them of their pay from her own salary.
In her speech during the indignation rally, Fernandez said the approved budget was obviously designed to sabotage her administration, not caring whether their politicking would affect thousands of residents.
"Umpisa pa lang, masama na po ang kanilang isip. Gusto nila talaga na ang ating admistration ay hindi magtagumpay," Mayor Fernandez echoed. (Leonardo Micua)
Share your Comments or Reactions
comments
Powered by Facebook Comments