MBTF orders Artikulo 21 strict enforcement
TO RESTORE DISCIPLINE AND ORDER
RESIDENTS and visitors of Dagupan beware!
Mayor Belen Fernandez has issued Executive Order No. 17 reconstituting 'Task Force Disciplina,'  redefining its functions for a stricter enforcement of the city ordinance 'Artikulo Biente Uno'.
The move seeks not only to instill more discipline and love for the city among residents of Dagupan, including visitors, but to establish more order in the city.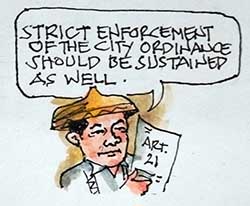 Artikulo Biente Uno is an ordinance passed by the Sangguniang Panlungsod in 2013 during Fernandez' previous term as mayor of Dagupan that prohibits littering, vandalism, smoking and spitting in public, selling of liquor to minor, consumption of liquor in public other than in bars and night sports, flesh trade, cyber-sex and cyber pornography, loitering in the streets and others including enforcing curfew for minors.
However the enforcement was discontinued by the Lim administration after Fernandez left office in 2019.
Fernandez said the new Task Force Disiplina will be manned by Atty. Catleya de Guzman, her chief of staff, as task force chair, City Legal Officer Aurora Valle as vice chair, and Gerry Fernandez, Public Order and Safety Office (POSO) chief Arvin Decano, P/Lt. Colonel Vicente Castor Jr., chief of police; Irene Ferrer, City Social Welfare and  Development Officer Irene Ferrer, and Market Marshals  Christopher Beltran and Jaime Serna Jr. as members.
E.O No. 17 directing the reorganization of the super task force is "in line with the humanized enforcement of the law consistent with the need of imposing discipline to maintain peace and order and promote general welfare."
Asked by newsmen on who will enforce prohibition of lewd shows that are reportedly  featured inside some bars and night clubs, Fernandez said she tasked the Dagupan Police, Criminal Investigation and Detection Group, Police CyberCrime Group and the Public Order and Safety Office for that mission.
She warned that 'Articulo Biente Uno' will be enforced in the streets, parks and plazas, markets, at the premises of the city hall, and in other public places.
Violators will be reprimanded on  the first offense, and fined on the second and third offenses.
Fernandez also restored 'Task Force Vulnerable' directed at "Bakaws" or "Batang Kawatan," young boys and girls who regularly steal goods in markets "to wean them away from their illegal  activities, reform and rehabilitate them. (Leonardo Micua)
Share your Comments or Reactions
comments
Powered by Facebook Comments