No public hearings on Dagupan's 2023 budget – SP majority
ANOTHER VIOLATION OF LGC
THE majority in Dagupan Sangguniang Panlungsod rejected the minority bloc's move to make the hearings on the annual budget and all its integral plans, including the Annual Investment Program for 2023, public and not as a closed-door committee hearings.
Speaking for the majority, Councilor Alfie Fernandez said the committee hearing  is open to the public because the invited department heads "already represent the public."
He also invoke the SP's approved House Rules.
Councilor and Minority Floor Leader Michael Fernandez argued that the public specifically, taxpayers and members of the media must be allowed to attend the hearings set by the committee.
To reiterate its position, the majority decided to hold the hearings inside the cramp ante-room of the SP session hall instead of holding it at the session hall. (The majority earlier rejected the proposal of the minority to hold the committee hearing at the SP session hall).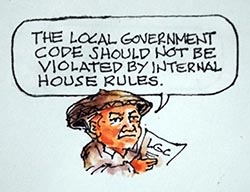 Meanwhile, City Lega l Officer Aurora Valle said she and other department heads proceeded to the SP session hall to attend the January 17 hearing unaware that the members of the majority decided to conduct the hearing  at the SP mess hall that was under renovation. In the absence of the department heads, Councilor Erfe-Mejia recorded them as absent in the committee report.
In insisting on committee hearing instead of a public hearing as provided for in the Local Government Code, the majority in the SP cited its own house rules that  provides for committee hearings, a position rejected  by Valle, saying "house rules cannot be over and above a substantive law, which is the Local Government Code."
Councilor Michael Fernandez scored the refusal of the majority to make the committee hearings on the annual budget and all its integral plans, including the AIP, open to the public.
Hearings suffered snags early on when Erfe-Mejia didn't observe protocol, sending invitations directly to department heads and in his capacity merely as committee chairman, not by the Vice Mayor as presiding officer; and bypassing Mayor Belen Fernandez as head of the executive department. Both violated the rules under the Local Government Code. (Leonardo Micua)
Share your Comments or Reactions
comments
Powered by Facebook Comments