MBTF: Charge ex-city officials involved in scholarship fund mess
CITY LEGAL OFFICE ORDERED
MAYOR Belen Fernandez has given the go-signal to City Legal Officer Aurora Valle to file charges against former city officials involved in the scholarship program of the past administration in her first meeting for the new year with the Local Development Council (LDC) on January 16,
To be charged initially were key officials involved in the implementation of the 2019-2022 scholarship program that lost some P28 million by initial estimates during the Brian Lim administration.
As of December 2022, the members of the scholarship fund committee under the Lim administration were: Chairman: Brian Lim, Members: Lenny De Vencia, James Arzadon, Leila Natividad and Linda Ventenilla.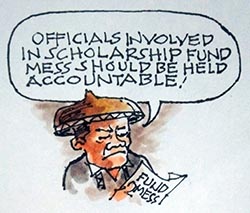 Initial investigations showed that of the 2,254 scholars, 765 were so far already found to be ineligible to receive scholarships from the Dagupan City government for being non-residents of Dagupan, for failing and incomplete grades, are dropouts, are still in high school, or have already graduated but all of whom were "paid" by the city government.
Clarifying that her report was only partial, Fernandez admitted that her office is still verifying 224 scholars whose credentials and records continue to be consolidated, and despite diligent efforts to reach out to these scholars, they have not yet come forward to dispute the findings.
According to Fernandez, a cursory review of the payroll also showed that disbursements to several recipients strangely bear one set of signatures with similar strokes leading to conclusions that these were fixed by specific person or persons.
"There was no turnover by the previous scholarship committee of any record of addressees, contact information, schools where they were enrolled in, no grades or academic records, as directed by the new scholarship ordinance," Fernandez added.
She lamented that the majority in the city council, all allies of the past administration, now want her administration to blindly pay all 2,254 current scholars, in full disregard of all the initial findings.
She said the report of her office on the scholarship mess of the past Lim administration, is far more comprehensive than the Audit Observation Memorandum of City Auditor Basa sometime in early December, that only limited  findings to the amounts withdrawn scholarship fund from February and March, 2022.
"We were vilified for this long delay but with these findings, we have been vindicated. It is my primordial duty to protect the resources of the city, and we shall not cower in fear nor pressured by anyone," Fernandez told the LDC, composed of barangay captains, department heads, leaders of civil society organization, including Councilors Alvin Coquia and Marilou Fernandez.
Meanwhile, after rendering the partial reports on the status of the current scholars, Fernandez announced that the city is ready to release of scholarship due current scholars whose records have already been verified and found eligible to receive the educational assistance fund. (Leonardo Micua)
Share your Comments or Reactions
comments
Powered by Facebook Comments