Pangasinan mourns FVR's demise
ONE OF PHILIPPINES' BEST
THE national flag in all government offices and schools in Pangasinan were flown at half-mast as a sign of mourning for the demise of former President Fidel V. Ramos.
Governor Ramon Guico III issued Executive Order (EO) No. 0109 on July 31 mandating the Philippine flag to be flown at half-mast in all government offices and in all private and public schools in Pangasinan.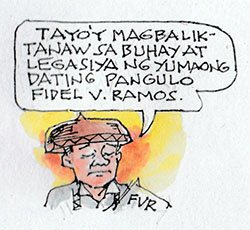 "As a mark of deep respect for former President Fidel V. Ramos and his life of service to our nation, it is fitting to pay tribute to him as a reputable Pangasinense leader," Guico said in his EO.
Guico said former President Ramos' legacy to the Filipino is his unparalleled leadership which created political stability and economic progress for the Philippines.
Ramos, who was born in Lingayen and grew up in Asingan town, is the first Pangasinense who became President of the Republic of the Philippines.
The Sangguniang Panlalawigan passed a resolution authored by Vice Governor Mark Lambino expressing the deepest sense of grief, sympathy and condolences of the people of the Pangasinan over the passing of former President Ramos, the 12th president of the Philippines. He was 94.
Even before the SP began its regular session on August 1, Lambino called a one-minute silent prayer for the repose of the soul of former President Ramos who died on July 31 due to complications from COVID-19.
He was a state leader, a democracy icon, who was able to secure a place in history for his participation in the great changes in our country both as a military officer and as chief executive.
According to Lambino, former President Ramos was a career military man who emerged from a high-ranking security role during the Marcos era to win the votes for the nation's highest office in 1992.
During his term in 1992 to 1998, former President Ramos steadfastly promoted the principle of people empowerment and global competitiveness through economic reforms by inviting more domestic and foreign investments.
The vice governor recalled that during FVR's term, the Philippines was dubbed as the rising tiger of Asia, noting how he succeeded in improving the country's economic growth, hastened its technological development, established political stability and efficient delivery of basic services for the people.
During his administration, he has made a shift from reactive leap-frogging to pro-active pole-vaulting of economic policies for the country, Lambino added.
The resolution cited FVR'S his deep concern for Pangasinenses by personally and constantly visiting the province of Pangasinan  and launching various development projects  aimed at people empowerment and poverty alleviation for his kabaleyans.
It added that FVR will not only be remembered as President with dignity, respect for democracy and the rule of law and as a person who lived a life of modesty, simplicity and integrity but as one of the great Filipino leaders who left behind a colorful service legacy with caring heart for the common Filipinos (Leonardo Micua/PNA)
Share your Comments or Reactions
comments
Powered by Facebook Comments