Region's COVID-19 cases surge to 322
ACTIVE COVID-19 cases further rose from 95 to 322 in Region 1 last week, 165 of which were from Pangasinan and Dagupan City, according to the latest monitoring as of July 13 of the Department of Health (DOH) regional office.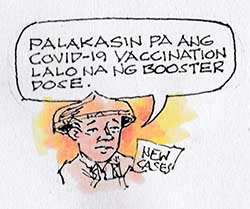 At the Kapihan sa Ilocos on July 14, Dr. Rhuel Bobis, the COVID-19 focal person in Region 1, confirmed that COVID-19 cases were, indeed, on the rise like in Metro Manila and other parts of the country, with 57 new cases recorded in the entire region on July 13 alone.
These 57 new cases were logged in Pangasinan, 25; Dagupan City, 5; La Union, 20;  Ilocos Norte, 5; and Ilocos Sur, 2.
On the other hand, of the 322 active cases, the highest number was still in Pangasinan at 140, Dagupan, 25; La Union, 25; Ilocos Norte, 44; and Ilocos Sur, 17.
Overall, the cumulative COVID-19 cases in the entire region as of July 13 totaled 119,295.
According to Dr. Bobis, the average daily cases in the region last week was only from three to five cases but this jumped to a daily average of from 18 to 20 cases in just a week.
From the positivity rate of less than one percent the previous week, it (positivity rate) increased to 7.9 after one week, is an indication that cases continue to uptick in the region.
Bobis attributed the increase of COVID-19 to three factors, namely:
The people have become lax and complacent in observing the minimum health protocol.
Low percentage of people getting booster shots. At present, only from 20 to 25 percent of the eligible population have taken their booster shots.
The detection of the b.25 Omicron sub-variant, which is a more transmissible strain than the mother Omicron variant.
Last week, Bobis announced that the ba.25 sub-variant was detected in four places in the region, one in Bugallon, Pangasinan. But all the patients found with that sub-variant have already recovered.
In Dagupan City, Dr. Ophelia Rivera, city health officer, confirmed that most of the active COVID-19 logged in the city were mostly unvaccinated children. Thus, she urged parents to submit their children for vaccination.
She said health care utilization in hospitals in Dagupan is still low but she added they have isolation facilities to use just in case.
Mayor Belen Fernandez said she already inspected all the isolation facilities in the city and all were put on stand-by in anticipation of a possible surge of cases.  (Leonardo Micua)
Share your Comments or Reactions
comments
Powered by Facebook Comments