Mayor Belen prepares to rid Dagupan of illegal fish pens
BARANGAYS TOLD TO PREPARE LISTS
THE Fernandez administration in Dagupan City appears determined to clear the city's rivers of illegal fish pens many of which are oversized and constructed along navigational lanes.
This became evident after Mayor Belen Fernandez had a consultation meeting with seven  barangay chairmen under whose jurisdictions are teeming with illegal fish pens all built during the Lim administration in violation of a standing city ordinance.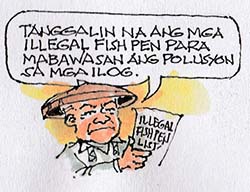 Those who attended the consultation were Liga ng Barangay Chairman Marcelino Fernandez of Lucao, Arsenio Santillan of Lomboy, Pepito Ventura of Carael, Delfin de Guzman of Salapingao, Nestor Victorio of Pugaro, Evangelita de la Cruz of Calmay and Joshua Gonzales of Bonuan Binloc.
All seven barangay officials recommended to Mayor Fernandez the immediate demolition of the illegal fish pens because these obstruct navigational lanes and impede the flow of water to the sea during low tide.
Also in that meeting were members of the newly constituted Bantay Ilog Task Force composed of Rowan Manaois, Manny Lopez, Sherwood Ubando and one Kagawad Abel.
The barangay captains were in agreement that the removal of the illegal structures will free the rivers from obstructions, resuscitate their dying eco-system and make the rivers teem with fish and aquatic life again.
Fernandez directed the city agriculture office and the Bantay Ilog task force to complete the list of illegal fish pens, including their respective owners to whom notices will be served in observance of due process, prior to the demolition.
The mayor called on all owners of illegal fish pens to voluntarily demolish their structures and not wait for the city government to do the demolition.
Fernandez reminded the illegal fish pen owners that during her previous term, she was relentless in implementing a city ordinance banning all fish pens in the city's rivers.
She said the proliferation of illegal fish pens in the city over the last three years was evidently tolerated by the Lim administration in violation of the city's standing ordinance against it. (Leonardo Micua) 
Share your Comments or Reactions
comments
Powered by Facebook Comments