Management by objectives is key – Governor Guico
NO POLITICAL REORGANIZATION
OFFICIALS and employees of  provincial government heaved a sigh of relief after Governor Ramon Guico III told them during his first flag ceremony at the capitol grounds that reorganization based on politics is not his cup of tea.
"We would like to roll our sleeves and get down to work," the governor said.
"This means that we would like to get things going. We would like to work hard in order to achieve our province's mission, vision and goals,"  he added.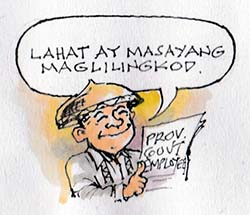 Noting that there are more than 6,000 employees of the Pangasinan provincial government spread out all over the province, he challenged them to show their hidden talents to the province so that they can shine, assuring them that that he is a believer of talents.
He told the employees that he will govern and manage the province by objectives, as he has  always done in his business activities as an entrepreneur.
There will be a new vision to be drawn for the province because there were promises given in the campaign that need to be achieved through hard work, Guico told the  employees.
"Huwag kayong mag-alala. Life goes on. Mag-trabaho tayo," Guico cheered the employees but warned against breaking his trust .
"We can always forgive but it is very very difficult to forget. Right?" he intoned.
"I am an advocate of people empowerment and as a human, we are never perfect. We are never God, nor a demi-God, and are just mortals who were given this chance of life and opportunities," Guico stressed.
He asked employees to maximize their opportunities to serve and always remember the need to serve the people to complement weaknesses in the organization. (Leonard Micua) 
Share your Comments or Reactions
comments
Powered by Facebook Comments