Guico: Let's make Pangasinan more progressive
MORE NEW INVESTMENTS SEEN
PANGASINENSES can look forward to a more progressive province with more economic opportunities and benefits for them.
This capsulized the vision of Governor Ramon Guico III in his inaugural address before local officials after he was sworn into office by Presiding Judge Harriet Cabreros of the Municipal Circuit Trial Court of Binalonan and Laoac Wednesday (June 29) at the Sison Auditorium in Lingayen.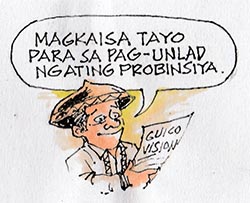 "A vibrant economy means more vibrant economic opportunities to the people, will empower them via their earning capacities," Guico stressed, adding that more industries in Pangasinan will employ more people, enabling them to earn and buy the needs of their families, and most important is "to enable them to conquer their own poverty".
The new governor also pledged that his administration will be known for its good governance, good housekeeping, good financial management, transparency and accountability that he said he can accomplish by working hard as the unifying leader of the province.
To achieve his vision, Guico said he will –
1) Create a special office for investment and promotion that will integrate best practices of LGUs and a One-Stop Business Center to help potential investors to prepare and expedite the processing of their documents and grant them tax holidays and incentives.
2) Plan for the construction of the 'Pangasinan Eastern-Western Expressway' that will shorten travel time from east to west and increase the inflow of tourists into the province's tourist destinations.
3) Establish more economic zones in all districts in addition to the existing economic zone in his hometown Binalonan and another to rise soon in Bayambang.
4) Institutionalize the province's scholarship program making quality education accessible to all through partnerships with local institutions such as the Pangasinan State University and other colleges and universities. The goal is to make quality secondary and tertiary education available to all Pangasinenses so all families will have at least one college graduate.
5) Add more doctors, nurses and other medical practitioners and equip provincial hospitals with more facilities .
6)  Promote farm mechanization program and to institutionalize assistance to farmers via the e-Agro app being used in Bayambang to ensure that the whole production chain—from farming to marketing to households to the dining table – is assured in efficient and effective manner with financing support.
7) Promote the planting of high-value crops, aside from only rice and corn and to protect the fishing industry from external threats and hazards.
8) Increase police visibility and presence in populated areas and asked the police to form Quick Reaction Teams  to respond to threats to peace and order in any community.
9) Create and promote programs for the care and protection of the environment in the province.
In ending his inaugural address, Guico said "I am now ready to take my share of responsibility and to shout to the entire province and the whole world that Pangasinan is Ang galing!" (Leonardo Micua) 
Share your Comments or Reactions
comments
Powered by Facebook Comments