Transport cooperative president shot dead
HITMEN RIDING-IN-TANDEM ARE BACK
CRIMINALS riding in tandem struck again, killing the president of the Lingayen-Dagupan Transport Cooperative whose fleet of modernized vehicles are among those giving Libreng Sakay to commuters to and from Dagupan daily.
The ambush happened 7:15 p.m. on June 23 in Lingayen town at the corner of Sto. Nino Street, and Castillo Street while the victim Petonilo Castillo, 59, and his wife Evangeline  were going home to Barangay Maniboc on board their own HiAce Van.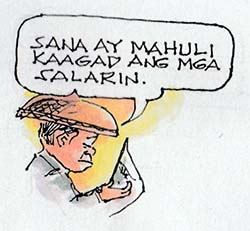 The shooting happened when Castillo momentarily pulled over to give way to passing vehicles and at this juncture two unidentified men came from behind and approached the driver's window and the back-rider opened fire on Castillo with his wife beside him.
Mrs. Castillo rushed her husband to Jesus Nazarene Hospital where he was declared dead on arrival by the attending physician. The victim sustained gunshot wounds in his head, face and neck.
She told police investigators that her husband was able to fire his gun, a Taurus Caliber 45, but was not sure if any of the two suspect was hit. The gun was recovered from the HiAce van by Mrs. Castillo's brother, Virgilio Milo, 54, who later turned this over to the police for ballistic investigation.
Lingayen Police chief OIC P/Lt. Col. Wilmer Pagaduan said the motive of the slaying is still unknown and still being determined by investigators he assigned to the case.
However, there is a strong speculation that the motive of the slaying could be business rivalry and the police are cautiously gathering leads to support the suspected motive.
Pagaduan called on those who may have witnessed the incident to come out and tell what they know so that the perpetrators could be identified and arrested at the shortest possible time.
Transport groups in Lingayen condemned the senseless slaying of Castillo and called on the police to do all means to arrest the perpetrators soonest. (Ahikam Pasion)
Share your Comments or Reactions
comments
Powered by Facebook Comments