Lim finally receives 2022 budget ordinance
AFTER FIVE DAYS OF BUCK-PASSING
AFTER initially refusing to receive on June 10 the approved 2022 budget ordinance, the office of outgoing Mayor Brian Lim had a change of heart and decided to receive it five days later on June 15.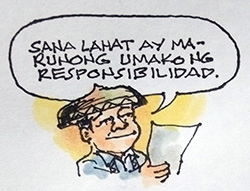 The 1st endorsement – "Respectfully forwarded to the Honorable City Mayor Marc Brian C. Lim, this city, within copies of Ordinance No. 2244-2022 of the Sangguniang Panlungsod this city" – dated 10 June 2022 from the Sangguniang Panlungsod signed by City Secretary Ryan Ravanzo was marked received June 15 by the records section of the mayor's office .
Under the Local Government Code, Lim has 10 days or until June 25  to approve or veto it and if no action is made by him after the lapse of 10 days, the ordinance will lapse into law.
Councilor Karlos Reyna earlier said in case Lim vetoes the ordinance, the majority in the SP has the sufficient number or 2/3 vote to override the veto.
Initially, three offices under the city mayor – records department, the city administrator and the budget department – refused to accept the ordinance and pointed to each other as the proper office to receive the ordinance for the mayor's action.
On noting the buck-passing by the three offices, City Secretary Ryan Ravanzo instructed Rita Palaganas, Imelda Buena, Jocelyn Ferrer and Angelina Sandoval, all SP secretariat staff, to simply leave seven copies of the budget ordinance at the mayor's office.
Upon consultation with Chester Diwas, legal officer of the Department of the Interior and Local Government (DILG) regional office, the SP was advised there is no provision in the local government code when it comes to the service of an ordinance, particularly if merely leaving copies of the  budget ordinance at the mayor's office is equivalent to having the document being received.
Diwas, however, agreed with Councilor Joey Tamayo's argument that in the service of orders, resolutions and decision promulgated by the court,  the Rules of Court will apply if there is no provision in the local government code.
At the same time, Diwas said that any public officer who refuses to perform his or her ministerial duty like receiving an official communication is liable for dereliction of duty and abuse of power punishable by rules and laws promulgated by the Civil Service Commission.
After the consultation, Tamayo submitted a resolution affirming the submission of the approved budget ordinance to the mayor's office on June 10, affixing therein the affidavit executed by Palaganas, Buena, Ferrer and Sandoval.
Before Mayor Lim decided to receive the copies of the ordinance, outgoing Councilor Luis Samson Jr. slammed Lim for refusing to receive the approved ordinance.
In a privilege speech in Pangasinan dialect, Samson said it was Lim himself who was in a hurry to have the annual budget passed before the election but when he lost in his return bout with Mayor Fernandez, he suddenly lost his interest in having the budget passed.
(Leonardo Micua)
Share your Comments or Reactions
comments
Powered by Facebook Comments