EMB warns Lim for using closed dumpsite
DAGUPAN'S GARBAGE WOES WORSENS
THE Environmental Management Bureau (EMB),  an agency under the Department of Environment and Natural Resources, has warned Mayor Brian Lim that he is liable for an  administrative case for continuously allowing the use of the already closed open dumpsite in Barangay Bonuan Boquig for the disposal of Dagupan wastes.
This was gleaned in a letter of EMB Regional Director Maria Dorica Naz-Hipe addressed to Mayor Lim dated April 11, 2022, which was received by Lim's office on the same day.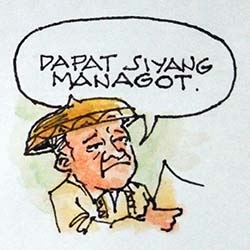 In her letter to the Dagupan mayor, a copy of which was obtained by The PUNCH, Director Naz-Hipe cited the monitoring conducted by EMB's Environmental Monitoring Officer that confirmed that the closed dumpsite "is being used again as an open dumpsite which is prohibited under the provisions of RA 9003".
Prohibition under Section 37 of R.A. 9003, according to Naz-Hipe states: "No open dumpsite shall be established and operated, nor any practice of disposal of solid waste by any person including LGUs, which constitutes the use of open dumps for solid wastes."
"Please be informed that Section 50 of the same law states that: "Local government officials and officials of government agencies concerned who fail to comply with and enforce rules and regulations promulgated relative to this Act shall be charged administratively in accordance with R.A. 7160 and other existing laws, rules and regulations."
In view of this, Naz-Hipe advised Lim to haul dumped waste to an operating Sanitary Landfill and "implement the activity for the Safe Closure and Rehabilitation of your disposal facility."
Director Naz-Hipe asked Lim to submit proof of compliance that Dagupan has hauled its dumped wastes to an operating sanitary landfill within 15 days upon receipt of the letter.
The Dagupan City government was further directed by EMB to properly dispose accumulated waste in a sanitary landfill immediately, otherwise the latter office "shall be constrained to issue a Notice of Violation/Show Cause Order to your city for violation of R.A. 9003.
Meanwhile, the Commission on Audit found that the Dagupan City government under Lim's stewardship, engaged the services of a private company to haul Dagupan's wastes but it was not clear where the collected wastes were being delivered.
A concerned citizen from Barangay Malued filed a case before the Ombudsman against Lim and another city executive for allegedly mismanaging the wastes in Dagupan even if the city had contracted a private company to haul the garbage supposedly for some P50 million yearly. (Leonardo Micua)
Share your Comments or Reactions
comments
Powered by Facebook Comments