More PNP personnel deployed to safeguard polls
PEACEFUL VOTING SEEN
THE Pangasinan Police Provincial Office (PPPO) deployed 3,224 police personnel and another contingent of 337 as additional security forces to help ensure the holding of safe, peaceful and orderly election on May 9.
P/Lt. Colonel Ferdinand de Asis, deputy police provincial director for operations, said the additional police personnel were deployed to help local policemen man the 1,196 voting centers in Pangasinan, at two policemen per voting center and three policemen per voting center in Dagupan City.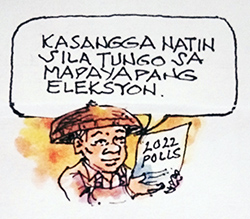 De Asis told the Tontongan ed PIA on Thursday (May 5) that Quick Reaction Teams are on standby at the Police Provincial Headquarters at Camp Antonio Sison in Lingayen, ready to respond to any call for assistance in any area.
He added that a separate Civil Disturbance Management Team, from the SWAT, the police mobile force and the PNP provincial unit, is also on standby at the PNP  provincial headquarters to respond to any disturbance in Pangasinan.
At the same time, De Asis revealed that there are already eight towns placed by the police under Category Orange with the addition of Bayambang. The other towns under the Orange category are Urbiztondo, Sual, Sto Tomas, Bolinao, Calasiao, Rosales and Sison.
The towns were placed under Orange Category because of their history of political violence in past elections, intense political rivalry among candidates that could lead into encounters among involving armed men and criminal gangs.
Elements of the regional mobile force battalion and from the Philippine Army have already been deployed in the eight towns.
Meanwhile, De Asis said all police stations in the province have been ordered to conduct three to four road checkpoints daily to check on firearms, contrabands and presence of armed men.
In the same forum, P/Major Katelyne May Awingan, PPPO information officer, said some of the 377-man police augmentation force deployed in Pangasinan will take over posts temporarily vacated by policemen on schooling and re-assigned to the police national headquarters.
But she added that there are also policemen in the national headquarters who signified their intention to vote in their respective precincts in Pangasinan and asked to be on poll duty in the province during the election period only.
Awingan said members of the quick reaction team will ensure the security in hard to reach barangays of the province. (Leonardo Micua/Ahikam Pasion)
Share your Comments or Reactions
comments
Powered by Facebook Comments