Lim, 3 others sued for closing streets sans ordinance
THIRD CASE BEFORE OMBUDSMAN
FOR closing Galvan and Zamora Streets since year 2020 to give way to the holding of  baratillo without any ordinance passed by the Sangguniang Panlungsod, Dagupan City Mayor Brian Lim is facing another complaint before the Ombudsman along with three senior officials of the city government.
The case, filed by Marlon Velasco Aquino, a resident of Barangay Malued, Dagupan City,
resident and taxpayer of Dagupan City, was received by Ombudsman's office through Joselito Llaguno on April 27.
The respondents, aside from Lim, are Robert Christopher Erfe-Mejia, chief of the Public Order and Safety Office (POSO), Aguedo Sta. Maria, head of the Market  Division; and Romelita Alcantara, city treasurer.
All the respondent public officials are being charged administratively for grave misconduct, and conduct prejudicial to the best interest of the service; and criminally for violation of Section 3 (e) of Republic Act No. 3019 and Rule X, Section 1(a) of R.A. 6713.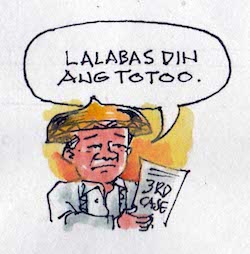 Enclosed as one of the five annexes in Aquino's 12-page complaint-affidavit was  a certificate signed by City Secretary Ryan Ravanzo dated 22 April 2022 certifying that "there are no ordinances enacted authorizing the closure of Galvan and Zamora Streets for purposes of holding a Baratillo or any other purposes beginning 2020."
According to the complaint, the closure of Galvan and Zamora Streets started in Calendar Year 2020 and continues to this day.
Moreover, the complaint alleged that small-scale entrepreneurs of the Baratillo have questioned the collection of "high rental" allegedly imposed by respondents Lim, Sta. Maria and Alcantara.
The complaint alleged that there is basis to hold respondents Lim, Erfe-Mejia, Sta. Maria and Alcantara for violation of Section 3, paragraph e of R.A. No. 3019 otherwise known as Anti-Graft and Corrupt Practices Act over the closure of Galvan and Zamora Streets without city ordinance.
Also, the respondents  were cited to have violated Rule X, Section 1, paragraph a of the Rules Implementing the Code of Conduct and Ethical Standards for Public Officials and Employees pursuant to Republic Act No. 6713.." to "have directly or indirectly financial or material pecuniary interest by putting up a Baratillo…"without proper government accounting and auditing of all stalls established therein".
Respondent Lim was cited for the implementation of the unauthorized Baratillo while Erfe-Meja carried out the clearing of Galvan and Zamora Streets to give way to the Baratillo vendors; and both Sta. Maria and Alcantara were already aware of the existence of Baratillo since Calendar Year 2020 but took no action.
Aquino said the respondents are administratively liable for violation of Section 46, Rule 10 of the Revised Rules on Administrative Cases in the Civil Service  promulgated on 18 November 2011 especially paragraph A, sub paragraphs (3) Grave Misconduct  and Paragraph  B, sub paragraph (*) Conduct Prejudicial  to the Best Interest of Service.
Aquino asked the Ombudsman to issue an order of preventive suspension against them and after a due course they be meted the penalty of dismissal from the service, which shall carry with it the cancellation of eligibility, forfeiture of retirement benefits, including accrued leave credits and perpetual disqualification for reemployment in the government service.
Asked to comment on the matter, Dagupan Public Information Officer Gabriel Cardinoza declined to issue any statement, saying he is not the legal officer nor the mayor.
Lim and other officials were earlier named as respondents in two graft cases filed by the Small-Scale Fish Consignment and Retailers and Marietta Barrientos. (Leonardo Micua)
Share your Comments or Reactions
comments
Powered by Facebook Comments