Dagupan kapitans oppose Pamana's franchise application
FOR WATER RATE INCREASE
THE Liga ng Barangay (LB) of Dagupan headed by ex-officio City Councilor Marcelino Fernandez interposed its objection to the application of Pamana Corporation for a franchise to increase water rate filed with the National Water Resources Board (NWRB) that was conducting its second hearing on the matter on Monday (May 23) in Manila.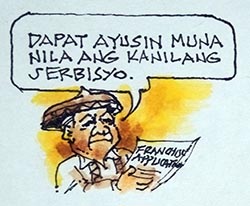 This was disclosed by Councilor Jose Tamayo, volunteer counsel for the LB Dagupan, who  accompanied Fernandez who was invited to the hearing where he submitted the resolution signed by 26 of the 31 barangay chairmen opposing the application of Pamana for a franchise and authority to increase the water rate.
"We are opposing the application because of their poor service and the poor quality of water it is delivering," Fernandez said.
Tamayo said the barangay chiefs complained not only of "murky water" coming from Pamana, but low water pressure even in barangays that have water pumping stations, and the already higher water charges being imposed by Pamana.
He added the observation that there are water pumping stations that do not have drainage canals that could help abate flooding in communities where these are located.
"Panama should first comply with the demand of the water consumers in Dagupan to  improve its service and provide quality water that they deserve," Tamayo said.
Tamayo said he finds it strange why Pamana is applying for a franchise when the Dagupan City Water District (DCWD) with which it entered into a joint venture agreement already has an existing and valid franchise.
"Does  this mean that DCWD is now giving up its franchise?" he asked as he maintained that the joint venture agreement between Pamana and DCWD in 2020 was between two distinct private corporations without prior advice to the Sangguniang Panlungsod that represents the people, the main stakeholders in the DCWD.
Tamayo said the NWRB is being asked to determine who is franchise holder before it acts on the application of Pamana because facts show that the present franchise holder is DCWD, not Pamana.
Fernandez noted that in the second hearing of Pamana's application with NWRB was attended by officials and legal counsels of Pamana and DCWD. (Leonardo Micua)
Share your Comments or Reactions
comments
Powered by Facebook Comments