API: election results rigged, set to file protest
THE NEXT BATTLEFRONT
THE Abante Pangasinan Ilokano (API) political party vowed to file an electoral protest as it questioned the voting process that resulted in "unbelievable" numbers in the election for "the gubernatorial post down to municipal councilors."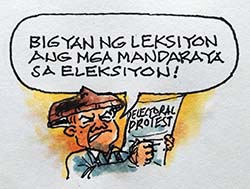 In a statement read by Atty. Nelson Gayo, municipal vice mayor of Laoac and API secretary-general during a news conference in Lingayen, API said the party under which incumbent Governor Amado Espino III run for his third and last term of office, will "accept defeat provided it is done within the atmosphere of fair play, clean and honest elections".
The second-termer Espino's bid was upset by Fifth District Rep. Ramon Guico III by some 163,000 votes, while, Espino's running mate Second District Board Member Nestor Reyes trails incumbent Vice Governor Mark Lambino, Guico's running mate, also by a wide margin.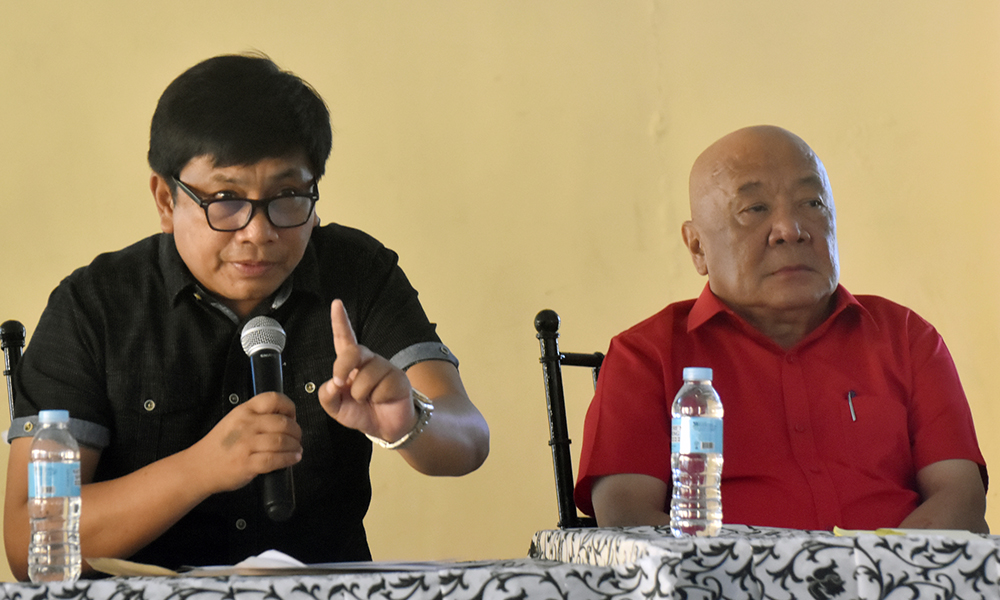 Gayo, stresses a point during a press conference last Tuesday (10 May) in Lingayen while Amado Espino, Jr., listens. (Punchphoto by Cesar Ramirez)
Gayo described Espino's loss to Guico was marked "by a historical margin."
Espino's younger brother, incumbent Second District Rep. Jumel Espino, also lost his bid for a second term to businessman Mark Cojuangco, considered a newcomer in Lingayen and in the Second District by a wide margin.
Former Fifth District Rep. and governor, Amado Espino Jr., founding chairman of API, told newsmen: "We do not agree nor do we believe in the results of the elections yesterday."
Gayo said the facts and figures of "glaring massive cheating were very obvious" and cited the cases in Bayambang and Malasiqui where API has numerous supporters.
In Bayambang, he said a number of voters who are prepared to give their sworn statements that the names they selected in the ballots did not appear in the receipts issued by VCM and as a result not even one of the 18 candidates under its wing won.
He said Malasqui has been "one of Governor Espino's bailiwick yet the votes cast showed he lost by some 20,000 votes which was highly improbable.
API also took exception to the votes cast between the two candidates for governor and the two candidates for vice governor by citing the latest Comelec update that showed the combine votes garnered by the two gubernatorial candidates had a total aggregate of  1,577,777 votes, while the combined votes of the two vice gubernatorial candidates was only 1,123,626 votes.
He said the process showed 454,150 persons voted for candidates for governor but not for vice governor.
"Doesn't this cast doubt even on the intellect of our voters?", Gayo asked newsmen. "You be the judge," he added as he pointed to the glaring disparity in the votes cast.
The Espino patriarch also told newsmen: "Mark Cojuangco just arrived in the Second District, especially Lingayen, more than a year ago. He does not speak Ilokano or Pangasinan. Naglalakad siya sa baywalk, may dala-dalang aso, wala namang bumabati sa kanya."
He said he cannot believe that a sitting governor and a multi-awarded governor like his son Pogi would lose to a challenger in the person of Guico by more than 163, 000 votes.
API believes that these were the handiwork of an IT operator who was allegedly involved in an anomalous transaction with a transportation agency before. (Leonardo Micua)
Share your Comments or Reactions
comments
Powered by Facebook Comments