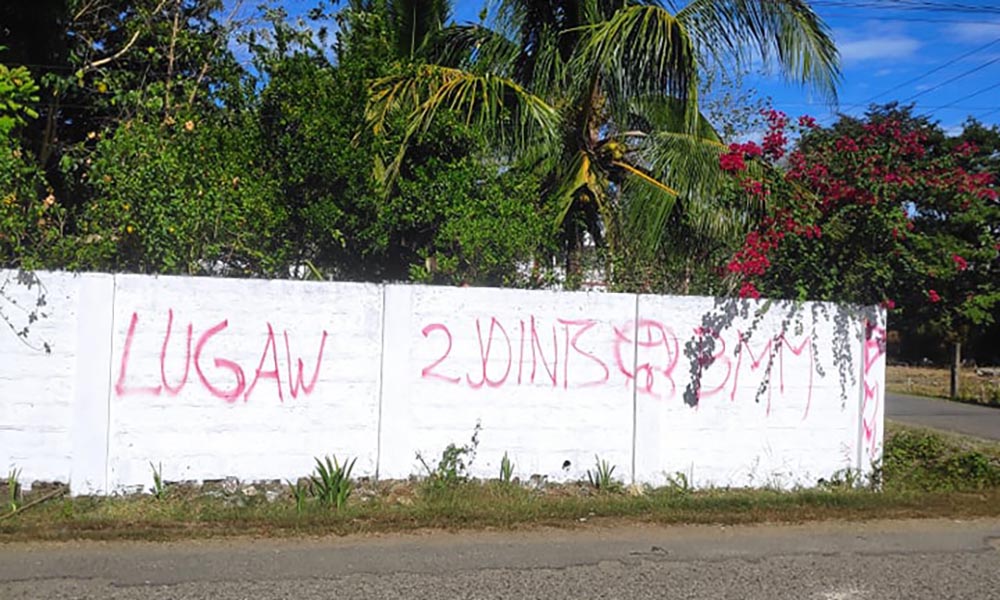 Wall for VP Leni's mural in Burgos vandalized
BBM graffiti on Leni wall
BULLYING TACTIC VS LENI
AN ugly partisan activity alarms the community in Burgos town.
The mayor of Burgos town strongly condemned the vandalism on private properties as the campaign heats up for the May polls.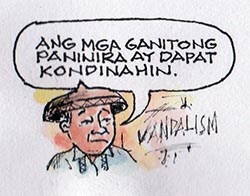 In a statement by Mayor Ronald Ngayawan posted on Facebook on March 30, in reaction to graffiti sprayed on the wall of the residence of Father Melchor Braga, that was  being prepared for VP Leni Robredo's mural.
On the white wall were words "Lugaw..2joints…BBM" scrawled with spray paint.
"While we respect the expression of opinion, feelings and thoughts of anyone, it must be made in appropriate process and means". Ngaywan said.
"This is not simply against the law but contrary to the actions and character of a Burgonian," he added.
The mural was eventually completed after painting.
He added, 'This is not the kind of attitude I had known among the residents. We are a community that values peace, order, reason and cleanliness".
Ngayawan said he is hoping that people will not be separated by their beliefs or by the support they are giving to their chosen candidates "but we should be banded together and united by one aim to improve and advance our town by choosing a leader without resorting to fight or anger in our heart".
Although the mayor did not elaborate on the vandalism as an obvious partisan act, many Catholic priests in Pangasinan are supporting the presidential bid of Vice President Leni Robredo.
In a separate statement from Burgos Pangasinan for Leni-Kiko about the incident, it said it was  the Youth Volunteers for Leni Burgos that cleaned and prepared the wall space  for a mural in P. Ruiz Street on the fourth week of March with the consent of the resident.
"We strongly condemn this vandalism and we consider this as an act of harassment," it said. (Eva Visperas)
Share your Comments or Reactions
comments
Powered by Facebook Comments