Lim, 2 others face another graft case
HIRING OF UNQUALIFIED CONSULTANTS
DAGUPAN City Mayor Brian Lim is facing another complaint before the Ombudsman for hiring 59 technical consultants in 2021 in a 14-page complaint-affidavit filed by Concerned Resident and Taxpayer of Dagupan City represented by Marietta B. Barrientos, which was received by the Office of the Ombudsman for Luzon on April 1, 2022, affixing its seal thereof.
Lim's co-respondents in administrative complaints for Grave Misconduct Prejudicial to the Best Interest of Service and separate criminal complaints for violation of Section 3 (e) of Republic Act No. 3019 and Malversation of Public Funds are Jonafel R. Radovan, OIC at the Human Resources and Management Office, and Rosario Catugas, City Accountant.
This is separate from the administrative and criminal complaints for graft and plunder filed against Lim and eight senior officials of the city government by Barrientos representing Small-Scale Fish Consignment at Riverside, also on April 1 before the Office of the Ombudsman for Luzon.
Like in the first complaint against Lim and company, the new affidavit-complaint was based on the latest Commission of Audit Report.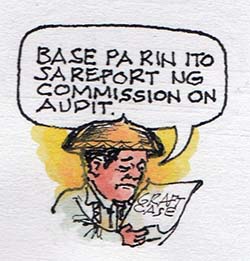 The new complaint re hiring of technical consultants stemmed from the adverse findings of Commission on Audit (COA) in its Audit Observation Memorandum AOM) No. 2022-014 (2021) DC dated 14 February 2022 issued by Michael D. Basa, audit team leader; and Remedios Movida, supervising auditor.
COA noted that the city government did not "properly observe" the conditions to engage consultancy services whose consultancy fees amounted to P16,241,514.00,"  in 2021 and therefore, "cannot be fully satisfied" that "resulted in the incurrence of non-essential expenses that could have been allocated to more significant and beneficial projects, programs and activities of the City  Government."
When the Audit Team reviewed the files submitted by the Human Resources Management Officer, to submit the list of all technical consultants and documents supporting their qualifications and eligibilities, some of the consultants had no proof of eligibilities/qualifications such as educational attainments, experiences, trainings and related qualifications.
Furthermore, in the verification by the submitted reports discovered that six were already performing regular functions as regular employees.
The Audit Team also discovered that two technical consultants lack the necessary education and/or training to be able to render consulting services beneficial to the city.
Moreover, accomplishment reports of 24 technical consultants indicated that their actual services and/or outputs rendered were not quantified and measured, "which pose doubts on whether the city received the best value from the services paid."
Then, two technical consultants hired by the city were already employed in Region 1 Medical Center and the other in the Daniel Maramba National High School.
Seven consultants for sports development were performing the same functions indicating duplication of jobs despite the suspension of sports activities.
According to the team, based on the accomplishments of seven sports consultants, they performed the same scope of work, and submitted the same accomplishments every month for the entire contract period.
COA asserted the respondent officials have blatantly disregarded laws protecting government funds; worst, having hiring of consultants that were not qualified given lack of necessary education and trainings to be able to render consulting services, perform same functions indicating duplication of jobs and double compensation; and the hiring of 59 consultant whose fees totaled mounting to P16,241,514.00 "is wastage of government money". "The professional fees could have been used for other vital projects such as for health, education, transportation, agriculture, farm-to-market roads, and others essential projects."
The complaints-affidavit prayed that to due to severity of the charges imputed against them, the respondents be issued a six-month preventive suspension and after due course be meted the penalty of dismissal from the service, which shall carry with cancellation of eligibility, forfeiture of retirement benefits including accrued leave credits and perpetual disqualification for reemployment in the government service. (Leonardo Micua)
Share your Comments or Reactions
comments
Powered by Facebook Comments