It's a reenacted budget for Dagupan City
WITHOUT 2022 REGULAR ANNUAL BUDGET
IT'S final. The Dagupan City government will operate with a reenacted budget after the Sangguniang Panlungsod failed anew to pass the regular budget last March 31, the end of the 90-day deadline.
However, City Secretary Ryan Ravanzo, clarified that operation of the reenacted budget is conditional under the Lim administration until an ordinance authorizing a new budget is passed before June 30.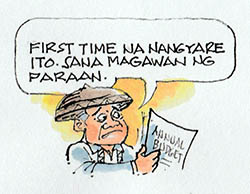 Ravanzo cited Section 23 of the Local Government Code (LGC) of 1991 which states: "If the sanggunian still fails to enact such ordinance after ninety (90) days from the beginning of the fiscal year, the ordinance authorizing the appropriations of the preceding year shall be deemed reenacted and shall remain in force and in effect until the ordinance authorizing the proposed appropriations is passed by the sanggunian concerned."
However, the LGC is silent on whether a newly formed sangguninan after the 2022 elections can act and pass the 2022 budget for the remainder of the year.
It is the first time in the city's history, even as a former municipality, that Dagupan is without a regular annual budget.
No action on the regular budget was made after the Sangguniang Panlungsod (SP) failed to muster a quorum during its regular session on Tuesday, March 29 which had on its agenda the review of the 500-pages Indicative Annual Procurement Plan just submitted by the executive department last March 15.
City Vice Mayor and presiding officer Dean Bryan Kua called the session to order before 2:00 p.m. but only Councilors Dennis Canto, Teresa Coquia, Celia Lim, Cisco Flores and Librada Reyna responded to the roll call.
Vice Mayor Kua reset the roll call twice for another five minutes to enable other councilors to join the virtual session, but when still no other councilors made their presence known, he adjourned the session.
Councilor Jose Netu Tamayo was on sick leave while Councilor Marcelino Fernandez and Luis Samson Jr.  were on official business. Deemed absent were Councilors Michael Fernandez, Karlos Reyna, Marvin Fabia and Joshua Bugayong.
Under the local government code, the SP is given up to March 31 of every year to pass and adopt an annual budget and failing that, a reenacted budget will be in effect up to the end of the year.
When the city council initially failed to pass an annual budget on December 31, 2021 because of failure of the city hall to submit required documents, the SP was barred from discussing other matters during its sessions except the budget.
The required  Devolution Transition Plan that was due on  October 12, 2021 was only submitted by the office of the city mayor  to the SP last March 9 after repeated reminders from the SP.  The Indicative Annual Procurement Plan was submitted only on March 15.
Councilor Samson earlier appealed to the executive department, through its finance committee, to hasten the submission of all the documents requested by the SP particularly before the campaign period for local candidates begins.  (Leonardo Micua)
Share your Comments or Reactions
comments
Powered by Facebook Comments