Illegal fish pens, oversized cages blocking rivers
BANTAY ILOG TF GETS ORDERS FROM CITY MAYOR
WONDER no more if flooding in the Dagupan City has been more frequent during high tide.
There are numerous oversized cages and illegal fish pens, encroaching navigational lanes from Zone 1 to 7 in all rivers of Dagupan City, that are not only effectively clogging the buffer zone of rivers slowing down the flow of water during low tide and high tide but blocking passageways of commuter motorboats.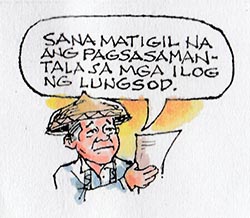 This was pointed out by Councilor Marcelino Fernandez, as Liga ng mga Barangay president, during the discussion on the city's Devolution Transition Plan regarding services that will be absorbed by the City Agriculture Office (CAO).
Fernandez said barangay chairmen in the city have expressed alarm and concern over the unregulated exploitation of the city's rivers and the failure of the city's Bantay Ilog task force to enforce the city ordinance on fishery.
He asked OIC City Agriculturist Teresita Pascua to act and clear the navigational lanes of illegal fish pens and cages as he cited a complaint brought to his attention about the presence of a large fish cage installed by a non-resident along the navigational lane of the river in Sitio Tocok.
The complainant lamented, he said, that his cage in the same area where the non-Lucao resident is, was demolished during the past city administration because it was situated along the navigational lane, but today cage is allowed to operate.
Fernandez said barangay chairmen reported presence of several fish cages that are oversized and do not conform to specified size in the city ordinance. At the same time,  because of the slow and limited flow of water caused by the illegal fish pens along the buffer zones, many fish cage operators are using water pumps in their areas.
"Is the Bantay Ilog task force doing its job really of monitoring our rivers? Fernandez asked OIC Agriculturist Pascua.
Pascua replied in the affirmative but vowed to bring the concerns of Councilor Fernandez to the Bantay Ilog Task Force, which is no longer under her office but under the Office of the City Mayor.
Fernandez also asked Pascua to coordinate with barangay captains whenever gill nets and motorized and non-motorized bancas from the national government are distributed to fisherfolk.
He cited the case in 2021 when CAO distributed nets and bancas all coming from Bottoms Up Budgeting program of the DA but did not coordinate these with barangay captains.
In the DTP of the CAO, P6 million was set aside for 300 non-motorized bancas to be distributed to fisherfolk in Dagupan. (Leonardo Micua)
Share your Comments or Reactions
comments
Powered by Facebook Comments