Dagupan's 46 Celsius tops PH's heat index
RESIDENTS URGED TO STAY INDOOR
EVEN before PAGASA can officially declare the onset of summer, Dagupan City already topped the highest heat index twice this week.
According to PAGASA, Dagupan City first made it to the top on Monday, March 7, with 46 degrees Celsius.
Davao City, Tuguegarao City and the Science City of Muñoz in Nueva Ecija shared 35 degrees heat index.
Dagupan City again made it to the top on Wednesday, March 9, with 41 degrees.
Heat index refers to temperature perceived by people, based on actual air temperature plus relative humidity.
"Ito yung mas kilala na init factor", said PAGASA-Dagupan chief meteorologist Jose Estrada.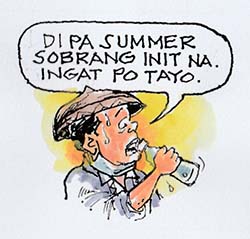 As a coastal city, Dagupan is prone to soaring temperature as sea temperature rises. As the city continues to expand and build more concrete establishments, less plants and trees are able to absorb the heat. The heat, therefore refracts in concrete, causing higher heat index in the area.
According to PAGASA, heat index of 41 to 54 degrees is flagged as  'Danger'. In this level, heat cramps and heat exhaustion are likely to happen, while heat stroke is probable with continued outdoor activity.
PAGASA urged individuals to stay indoors during peak hours. If staying outdoors cannot be avoided, make sure to wear light-colored clothing and drink plenty of water regularly. (Ahikam Pasion)
Share your Comments or Reactions
comments
Powered by Facebook Comments