203 barangays in Pangasinan still without schools
DepEd RESEARCH
THE Department of Education Ilocos (DepEd Region 1) has determined that out of 1,364 barangays in Pangasinan, 203 are still without schools and 1,048 barangays have elementary but without high schools.
These were among the findings of the research on "School-less Barangays" recently conducted by the DepEd Region 1 Policy, Planning, and Research Division (PPRD) in the region's 3,267 total barangays in the region.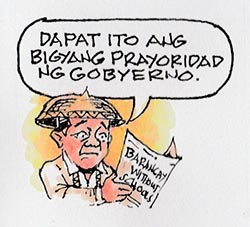 The barangays with no elementary schools are in Alaminos (2), Dagupan City (5), Pangasinan1 (73), Pangasinan 2 (94) and San Carlos City (29).
Those without secondary school are in Alaminos (30), Dagupan (23); 482 in Pangasinan 1 (482); Pangasinan 2 (432), San Carlos (66) and Urdaneta City (15).
Region-wise, there are still 989 barangays without elementary schools while 564 barangays do not have secondary schools.
A provision of a DepEd Order highlighted that there should be at least one elementary school for every barangay and at least one high school for every municipality or city.
"Even if we did not meet the one barangay one elementary school, we have more than the required number in secondary because we have 125 municipalities and cities but we have 564 secondary schools," Cesar Bucsit, head of the Public Affairs Unit of DepEd in Region 1, said.
The barangays without the elementary schools are  in La Union (254), in Ilocos Sur (325) and Ilocos Norte (207).
Barangays without high schools are in La Union (103), Ilocos Sur (77), Ilocos Norte (68).
Data showed that of the 1.29 million enrolled pupils and students in the region, 60,984 are from barangays without schools, mostly from far-flung barangays .
With limited access to school, learners initially go to nearby barangays to enroll but eventually drop out due to added transportation costs and allowance.
The research also revealed that learners outside the catchment area or within the two-kilometer radius and one-kilometer radius from a public school in rural and urban areas had more absences compared to those who traveled nearer.
Those who are walking have lower grades than those who traveled using their own service and private vehicle and those who availed public transportations. (Eva Visperas)
Share your Comments or Reactions
comments
Powered by Facebook Comments