PHO sees 320 daily COVID-19 attack rate
GETTING CLOSER TO LAST YEAR'S 400
THE daily attack rate of COVID-19 in Pangasinan has surged to 320 in the last seven days, infecting all 48 towns and cities but the Provincial Health Office (PHO) believes it's still no reason for people to panic.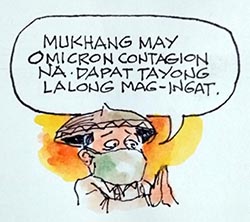 However, the monitoring conducted by PHO's Provincial Epidemiology Surveillance Unit (PESU) showed the daily average of 320 COVID-19 cases from January 14 to 20, was more than double the daily 153 attack rate of the disease from January 7 to 13.
The daily attack from July to September fanned by the incursion of the Delta variant last year was 400.
The increase was noted when there were 338 new cases on January 17, then 461 new confirmed cases on January 19.
In her talk during the Question Hour of the Sangguniang Panlalawigan on January 17, Provincial Health Officer Dr, Anna de Guzman clarified that the reason behind the national IATF's decision to place Pangasinan under Alert Level 3 from January 14 to 31 was to prevent a surge that could transition the province from moderate to critical risk.
De Guzman also reported that the detection of four Omicron variants based on the gnome sequencing of samples of patients conducted by the Philippine Gnome Center, found in balikbayans and returning Overseas Filipino Workers from Urdaneta City, Mangatarem, Sto. Tomas and Dagupan City.
She hinted the possibility that the highly transmissible Omicron variant may already have something to do with the current spike of cases in many areas of the  provinces.
Omicron contagion may be evident in Dagupan and Urdaneta cities where cases surged to 661 and 139, respectively, as of January 19. However, this was not seen in Sto. Tomas and Mangatarem that registered only 4 and 36 cases, respectively as of January 20.
PESU data showed there were 2,144 new confirmed cases that were recorded from January 14 to 20, more than double the number of patients that recovered for the  same period at 1,040, But the death toll was also high at 23.
This brought the number of active cases in the province to 2,163, raising the total number of cases so far logged in Pangasinan to 38,920. Of the number, 35,509 had recovered and 1,258 had died.
Placed under PHO watchlist for their surging cases are Lingayen with 175 cases, Urdaneta City (139), Calasiao (136), Malasiqui (99), San Carlos City (87), Mangaldan (80), Binmaley (78), Sta. Barbara (76), and Rosales (70). (Leonardo Micua)
Share your Comments or Reactions
comments
Powered by Facebook Comments