Fish vendors ask NBI to probe "tong" racket
DAGUPAN CITY MARKET MESS
THE Small-Scale Vendors and Fish Consignment Association (SSVFCA) finally decided to file a complaint with the regional office of the National Bureau of Investigation in San Fernando City in La union in connection with the alleged collection of monthly protection money supposedly by market marshals from small-scale fish vendors in Dagupan City.
This was revealed by Marietta Barrientos, SSVFCA during the continuation of the committee hearing at the Sangguniang Panlungsod last Tuesday on the complaints of the small ambulant vendors at the Magsaysay Fish Market in Dagupan against market marshals of the Market Administrator.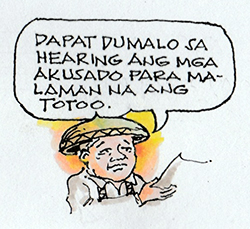 Barrientos said the subject of the complaint is Michael Hernando, chief of the Market Marshal Task Force in Dagupan.
On hearing Barrientos report to the committee, Councilor Librada Reyna asked Vice Mayor and SP presiding officer Bryan Kua to direct the committee to stop the hearing and instead begin to discuss other matters.
Reyna added that City Legal Officer Terrence Marata can continue the investigation of all the issues raised by vendors, including the collection of P100 in daily cash ticket fees instead of P20.
Councilor Teresa Coquia, chairman on the committee on market, objected to Reyna's motion and maintained that the hearing should continue until officials of the City Market Administration, especially Randolph Ubando, OIC market supervisor, and Hernando learn to respect the SP and honor its invitations for them to appear and clear up the issues raised against them by vendors.
Coquia reminded Reyna that Hernando and Ubando never attended any of seven hearings they were invited to, and reiterated that the committee needs to have answers to all the questions and charges raised during the past hearings, particularly the charge that Market Marshal Task Force was allegedly collecting P25,000 in monthly protection money from the vendors' group.
"Why are they afraid to come?" Coquia asked.
The vendors had alleged that the office of Hernando has been collecting P25,000 in protection money monthly, and they have proof of the receipt of the money from Hernando's group.
Barrientos said theP25,000 collected from them monthly was on top of the P100 cash ticket they paid each day and they pay another P100 if vendors continue to sell at night, when the P100 cash ticket is to be valid for 24 hours.
Danila Cayabyab, an officer of the Dagupan Fish Consignacion and Ice Dealers Association,  slammed Ubando's office for requiring vendors to pay P100 when the city ordinance only prescribes P20.
Barrientos scoffed at talks that their complaints are politically motivated, saying they  supported the LiFe team in the  2019 election, and went to the city council to seek answers and relief to their complaints beginning with their sudden relocation to another area. (Leonardo Micua)
Share your Comments or Reactions
comments
Powered by Facebook Comments