Close to 1M vaccinated, 500k more to go
HERD IMMUNITY POSSIBLE BY DECEMBER
CLOSE to one million Pangasinenses have been vaccinated against COVID-19 as of October  25, making the provincial government optimistic that it can achieve herd immunity among eligible population to have been vaccinated before the end of this year.
Gov. Amado Espino III, in his video message to Pangasinenses Tuesday night, said more than 969,000 individuals in the province have already been vaccinated representing 49 percent of the eligible population, qualifying further that 22 percent are fully vaccinated while 27 percent already had their first dose.
Espino also said the provincial government will further intensify its rollout in November across the province and aims to accomplish the vaccination of the remaining 500,000 of eligible population.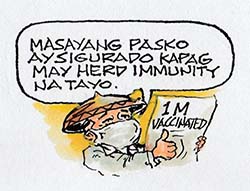 He said he is optimistic "we shall have vaccinated 70 percent of eligible population and  50 percent would have been fully vaccinated".
However, he asked the Department of Health (DOH) to send more vaccines to Pangasinan in support of the massive province-wide vaccination drive in 47 component towns and cities.
His optimism about the continuing improvement was boosted by the reported decline in active cases, citing the highest active cases of 4,844 on Sept. 12, that was significantly reduced to 1,148 active cases, the highest, on Oct 23.
Espino also said that from an all-time high one day figure of 878 new cases on Sept. 13, it dropped to only 81 new cases on Oct. 23.
The governor said that because of the continuing decline of COVID cases in Pangasinan, he already sent a request to the national Inter Agency Task Force to restore the Modified General Community Quarantine (MGCQ) the classification of Pangasinan starting in November.
"We are hoping that with the MGCQ, we continue to follow health and safety protocols and we continue to pray to God that we can overcome this," Espino said.
Pangasinan is currently under General Community Quarantine with heightened restrictions.
The governor said the positive development "is a fruit of our cooperation in this COVID fight, from our officials and personnel of province, towns, cities and barangays health workers, uniformed personnel and health frontliners".
He lauded the cooperation and improved discipline in communities.
Espino also thanked the national government for its  full support, particularly for delivering enough and timely vaccines for Pangasinan. (Leonardo Micua/ Eva Visperas)
Share your Comments or Reactions
comments
Powered by Facebook Comments