Active COVID-19 cases drop from 1,120 to 576
PANDEMIC IN PANGASINAN LAST WEEK
ACTIVE COVID-19 cases in Pangasinan further dropped to 576 on November 3 as the number of recoveries for a one -week period starting October 28 dwarfed the new cases logged raising hopes that the province may already be on the way out soon.
This development was affirmed by the restoration of the province's Modified General Community Quarantine (MGCQ) from November 1 to 30, after a General Community Quarantine with  heightened restrictions was imposed.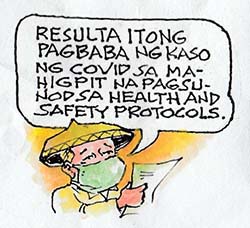 With its restored classification, travel restrictions in Border Quarantine Control Checkpoints in the province have been eased but non-APORs are still required to secure S-Pass to ensure unrestricted travel to their points of destinations. Also, curfew had been shortened to 10:00 p.m. to 4:00 a.m. from the previous 8:00 p.m. to 4:00 a.m.
From 1,120 active cases listed on October 27, the active cases dropped significantly to 576 as 1,053 patients recovered and released from hospital confinement and isolation in LGU-managed facilities while only 468 new cases were recorded.
Data shows an average of 66 new cases were being recorded daily from Oct. 28 to November 3,  compared to more than 400 new cases daily during the last surge of COVID-19 two months ago when active cases reached  its highest peak at 4,844 on September  12.
At the same time, recoveries of patients were an all-time high, at more than 150 daily while the death toll for the whole week was pegged only at 15.
As expected, Dagupan still leads in the number of cases at 98 from a high of 1,051 last September 15 at the height of the third surge of the disease, followed by Lingayen (37), Bayambang (36), San Fabian (34), San Carlos City (28), Binmaley (23), Natividad (31), Bolinao and Urdaneta City (20 each), Mangatarem (18), Tayug (17), and  San Jacinto (16).
As of November 3, the total number of confirmed cases in Dagupan stood at 34,970, with 33,236 recoverees while 158 died.
Dr. Anna de Guzman, provincial health officer, chiefly attributed the significant drop of COVID-19 cases to the religious adoption of health and safety protocols by the Pangasinenses and the continuous rising number of persons being vaccinated. (Leonardo Micua)
Share your Comments or Reactions
comments
Powered by Facebook Comments