1,126 evacuated in 11 towns, 3 cities
WRATH OF TYPHOON MARING
THE onslaught of Typhoon Maring forced 246 families or 1,126 persons in 11 towns and three cities in Pangasinan to be evacuated to safer grounds when strong winds and incessant rains continued for two days, from October 11 to 12.
The evacuees were from Pozorrubio, Laoac, San Jacinto, Lingayen, Sual, Bani, San Fabian, Manaoag, San Nicolas, Alaminos City, Sta. Barbara, Bolinao and Dagupan City.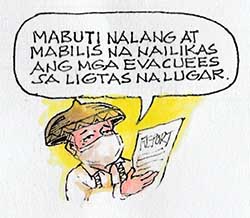 The worst affected was Dagupan City where 61 families or 243 persons were evacuated to higher areas as of 3 p.m. on October 13 because the flood spawned by rains was exacerbated by high tide, which usually occurred in early and usually lasting up to past noon every day.
As of 6:00 a.m. on October 13, most towns and cities in all six districts of Pangasinan were under water as rivers reached their critical level and the San Roque Dam in San Manuel became a big cause of concern because the level of water at its reservoir reached 281.27 meters above level, exceeding its normal spilling level of 280 masl.
Gov. Amado Espino III was in constant communication with authorities at the dam during the round-the-clock monitoring of its condition, especially because the inflow of water into San Roque was higher than the outflow on a day Typhoon Maring already left the country
With gates still closed, the Ambuklao Dam in Benguet opened its eight spillway gates, and the Binga Dam in Itogon, Benguet opened six gates and released their excess water in the direction of San Roque Dam.
At 6:00 a.m., the inflow of water into San Roque Dam was 673 cms while the outflow was only at 275 cms but since the rains have stopped when Typhoon Maring exited the Philippine Area of Responsibility (PAR), the dam didn't have to release water from the spillway.
To stabilize the rate of water inflow to water outflow and bring down the level of water to 280 masl, San Roque Dam increased the volume of water it discharged to its inlet canals down below its turbines for power generation, maximizing the big volume of water available in its reservoir.
Officials earlier said that in the event that San Roque dam opens its spillway gate, its water will not drain into Dagupan City since it is too far away from the Agno River.
It is the Sinocalan River that is connected to Mt. Ampocao watershed in Tuba, Benguet that  drains water into Dagupan and the Lingayen Gulf, but not the Agno River. (Leonardo Micua) 
Share your Comments or Reactions
comments
Powered by Facebook Comments