Pangasinan logs 10 new Delta cases
AS COVID-19 CASES CONTINUE TO SOAR
PANGASINAN detected 10 new confirmed cases of Delta variant of COVID-19 based on the Sept. 15 results released by the Philippine Genome Center through the Department of Health-Center for Health Development 1.
Eight cases were logged in Dagupan City and one each in San Manuel and Bayambang towns.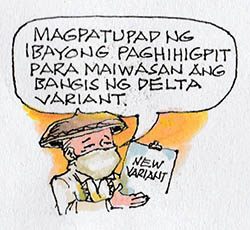 The Public Information Office of Dagupan posted Wednesday on its official Facebook page that the new eight cases tested positive on August 16.
Dr. Ophelia Rivera, COVID-19 focal person of Dagupan City said three of the new cases are medical frontliners.
Owing to the 3-4 week delay in the release of the results of genome sequencing, Dagupan City Mayor Brian Lim said the city must assume that the increase of cases here in the past weeks could have been caused by the Delta variant that has been spreading in the city over the past three weeks.
Meanwhile, the San Manuel local government said its first case of the Delta variant is a 42-year-old female employee who stays inside the headquarters of their company in Barangay Sto. Domingo. Her swab specimen was taken on August 12.
According to the local government, the employee has already recovered.
Bayambang town also recorded its first Delta case from a seafarer who went to Metro Manila on Aug. 15 to process his documents for his return to his work abroad and his RT-PCR test result on Aug. 18 showed he was COVID positive.
He was known to have had the Delta variant when his genome sequencing was released on September 14.
However, Municipal Health Officer Paz Vallo received a letter on September 15 from the Ilocos Center for Health Development 1 about the report from the Philippine Genome Center stating that their first positive case for Delta variant was on August 18 . (Eva Visperas)
Share your Comments or Reactions
comments
Powered by Facebook Comments