GCQ with heightened restrictions in Pangasinan
'NO MOVEMENT DAY' WEEKLY
OBSERVANCE of a "no movement day" once a week and the reinstatement of market schedules as a well as the issuance of quarantine passes are among the salient provisions   imposed by Governor Amado Espino III when Pangasinan was placed under the higher General Community Quarantine (GCQ) with heightened restrictions effective midnight of September 7 from Modified General Community Quarantine (MGCQ).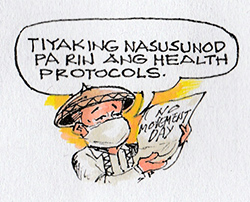 This was contained in Executive Order No.0102-2021 signed by Espino on September 7, a day before the GCQ with heightened restrictions declared for Pangasinan by the national Inter-Agency Task Force for the Management of Emerging Infectious Diseases (IATF-EID) was to take effect September 8 to 31.
————————————————————————————————————–
As of 9:00 p.m. on September 9, the number of active cases in Dagupan already soared to 742 as 109 more new cases were logged with just 34 recoveries. No death was  recorded. 
————————————————————————————————————–
These restrictions are within the Omnibus Guidelines for the Implementation of Community Quarantines in the Philippines as provided for in the national IATF-EID's E.O. No. 112, series of 2020.
Espino's EO. No. 0102-2021 that this is applicable in 41 of 44 component towns as well as the three component cities of San Carlos, Urdaneta and Alaminos.
Sison, Pozorrubio and Manaoag earlier placed themselves under the more restricted Modified Enhanced Quarantine (MECQ) because of surging COVID-19 cases in their areas: Sison and Pozorrubio until September 9 and Manaoag until September 19.
An added restriction in the EO is the observance of the "No Movement Day" once a week in  the 27 towns and 3 cities earlier declared as critical zones by the Department of Health (DOH) regional office for having exceeded the threshold 25 percent of their barangays already infected with COVID-19.
During the "No Movement day", no person, except for APORSs and those accessing essential goods and services such as food and medicine, will be not allowed to leave their respective residences. The day will be utilized, too, for disinfection of public places.
The E.O. also  directed the critical areas to reinstate weekly market schedules, assigning market days for barangays and clusters of barangays, Corollary to this, one member from every household would be issued a quarantine pass to be issued by the barangay and who should be the only one—and with corresponding identification card—allowed to enter the market to buy food and other essentials.
Further, public markets must observe "One Entry-One Exit Policy" and all designated entry points must be manned by personnel of the local governments and local police.
Other provisions of E.O. 0102-2021  include:
Al fresco dining will be allowed at 50 percent venue capacity while indoor dining services will be allowed up to 20 percent venue capacity;
Not allowed to operate are: 1) Videoke, karaoke bars/restaurants, 2) Establishments catering to indoor non-contact sports, indoor sports, courts or contract sports, scrimmages etc.; libraries, archives and museums; meetings, conventions and exhibitions, cinemas, amusement parks or theme parks, Internet cafes, billiard halls, amusement arcades, bowling alleys; traditional cockfighting and operation of cockpits and fair, and 3) Kids amusement  places such as playgrounds, play rooms and kiddie rides.
Religious gatherings will  be allowed up to 10 percent of the venue capacity; Gatherings for necrological services, wakes, inurnment and funerals for those who died of causes other than COVID-29 will be allowed provided that attendance will be limited to the family members and not more than three days.
Essential travels by APORs coming from any zone shall continue to be allowed. The APORs will include but not limited to frontline services government personnel with travel  order, emergency medical cases, public transportation and movement of cargo. (Leonardo Micua)
Share your Comments or Reactions
comments
Powered by Facebook Comments