Region 1, 'high risk' area for COVID-19 due to Delta
A BITTER PILL TO SWALLOW
REGION 1 was classified as one of the high-risk areas for COVID-19 in the country last August 6, after it registered six cases of the highly transmittable Delta variant, five in Ilocos Norte and one in Pangasinan.
But the level of quarantine classification, in the affected provinces varied: Ilocos Norte  under Enhanced Community Quarantine (ECQ) and Pangasinan still under Modified General Community Quarantine (MGCQ), despite detection of its first Delta variant in Natividad and an earlier Beta variant in Barangay Palua, Mangaldan.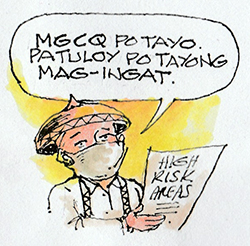 The Delta variant case in Pangasinan was detected belatedly on a newly arrived seaman  who was dropped off by a government bus at the TPLEx exit in Urdaneta City on August 3,  along with 13 other Overseas Filipino Workers (OFWs) from the province.
All were processed by staff of the Overseas Workers Welfare Administration (OWWA) stationed at the site.
The seaman from Natividad underwent mandatory 14-day quarantine in a hotel in Manila but which was extended to 21 days when he became positive for COVID-19. He was eventually released as a positive recovered patient but only when he finally returned home that it was found out that the strain that infected him was the Delta variant based on the whole genome sequencing of his specimen.
Dr. Rheuel Bobis, COVID-19 focal person of Region 1, explained that although a person infected is already 'clinically recovered', he is still considered a possible carrier. and is placed under strict home quarantine and re-swabbed for RT-PCR test.
Dr. Felix Briones, municipal health officer of Natividad, said the seaman did not show any symptoms of the disease but he was still asked to place himself under strict home quarantine while his close contacts were quarantined at the municipal isolation facility.
Dr. Anna de Guzman, provincial health officer, said that as of August 10, local government units were still tracing the other OFWs who arrived in Pangasinan with the seaman from Natividad. She said they must coordinate with the provincial government to determine their health status via the RT-PCR tests at the Pangasinan Molecular Laboratory.
Meanwhile, the 59-year-old man from Barangay Palua, Mangaldan who was detected with the Beta variant that originated from South Africa was confirmed to be a close contact of a person who earlier contracted the disease.
Dr. Raquel Ogoy, COVID-19 focal person of Mangaldan, said the man was found positive for COVID-19 on July 12 but it was only on August 4 , following the whole genome sequencing of his specimen, when he was found to have been infected by the Beta variant.
Ogoy said patient is in stable condition and recovering in an isolation facility. (Leonardo Micua)
Share your Comments or Reactions
comments
Powered by Facebook Comments